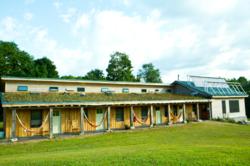 Starskboro, VT (PRWEB) September 29, 2011
For people concerned about minimizing their carbon footprint, now there's a facility in Vermont that groups can feel good about visiting this winter. The Eco-Lodge at the Common Ground Center in Starksboro, Vermont has solar heat, was built with wood harvested on its own land, and can house over 30 people in sustainable comfort.
The Eco-Lodge, just built and open for the first time this winter, sits on a magnificent 700-acre site in a beautiful mountain valley. In addition to snow shoeing on the farm fields and mountain trails or skating on the two-acre pond, visitors have access to Sugarbush and Mad River Glen skiing areas not far away.
All of the rooms in the lodge have radiant floor heat with solar tubes providing a major source of energy to keep guests warm, and the rooms in the inn have private baths. A large common room has a locally harvested maple floor, soapstone wood-burning stove, and full kitchen.
The Eco-Lodge provides a new destination for family or corporate retreats. For example, Burton Snowboards recently rented the site and a Zen retreat is planned for next month.
Wedding guests have also been most enthusiastic about their new comfortable lodging possibilities. With nine weddings at Common Ground this spring, summer, and fall, the parents and grandparents of the newlyweds have been able to lodge in style and comfort, while the younger folk enjoy the lovely rustic cabins in the maple grove on the hill nearby.
The new lodge is the latest development at Common Ground Center, a non-profit, cooperatively-run organization which has been providing family programming for the past 18 years. At Camp Common Ground, up to 150 people can come for a week at a time to engage in all sorts of fun activities—music, art, dance, sports, healing arts, nature exploration, and outdoor adventures. The Eco-Lodge allows more multi-generational families to enjoy camp in comfort.
For more information about renting the eco-lodge, please visit the Common Ground Center website or call 800-430-2667.
###