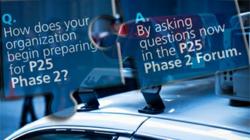 Public safety agencies affected by the FCC mandate for P25 Phase 2 migration want to understand better how Phase 2 will impact them and what they could be doing now to plan for it.
(PRWEB) September 30, 2011
Tait Radio Communications, in partnership with Mission Critical magazine, is sponsoring a unique P25 Phase 2 roundtable event for public safety organizations and industry professionals.
On October 19, a 15-strong panel of public safety experts and end-users will gather in Scottsdale, Arizona, to pose questions and seek answers surrounding the impacts of P25 Phase 2 for public safety organizations.
Public safety professionals, industry experts, P25 radio manufacturers, and other interested parties are encouraged to help drive the panel's discussion ahead of time by contributing online at http://www.p25phase2.com.
Russell Watson, Tait Solutions Marketing Manager, says: "Public safety agencies affected by the FCC mandate for P25 Phase 2 migration want to understand better how Phase 2 will impact them and what they could be doing now to plan for it. The Tait-sponsored roundtable event has been organized to host a full and open discussion on areas of interest to public safety organizations thinking about P25 Phase 2. At the same time, the online forum is a space to seek clear, impartial answers to the many questions organizations have surrounding P25 Phase 2. The forum will also be a place to gain practical advice and draw on the experiences of other public safety professionals and industry experts."
Popular questions posted in the online P25 Phase 2 Forum will be presented to the expert panel on October 19, and summaries, video and a full transcript of the discussion will be made available through the online forum shortly after the event.
Visit the P25 Phase 2 Forum to join the discussion
###