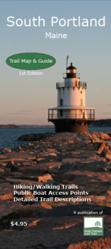 South Portland, Maine (PRWEB) September 30, 2011
The South Portland Land Trust (SPLT) is proud to announce the release of its first trail map and guide. The map will lead members, residents and visitors to over 15 miles of trails and some very special places. The trail map has been provided as a benefit of membership to all current SPLT members and is offered for $4.95 at Nonesuch Books and South Portland City Hall.
On one side is a beautiful, full-color map of existing and a select number of proposed trails. On the other side, the guide provides descriptions of these varied trails.
The map provides a wide variety of trail options to suit the user's needs, including efficient bike routes to work, new exercise loops, safer routes to school, dog friendly walking trails, kayak launching areas or quicker ways to get to nearby stores.
The map even illustrates how the South Portland Land Trust is applying their membership dues and contributions to work on the ground on at least four new trails or trail links, which will likely be completed in the next year or two.
"The SPLT has long dreamed of producing such a beautiful and useful map. Now it is a reality thanks to the expertise of volunteers, the dedication of Board and staff; the work of high quality consultants, a grant from the Maine Community Foundation, and the contributions of several local businesses", says SPLT map project leader Jon Dore.
The SPLT would like to acknowledge the much appreciated contributions of the project donors:
Saco & Biddeford Savings Institution
The Edward H. Daveis Benevolent Fund of the Maine Community Foundation
Ainsworth, Thelin & Raftice, P.A
19 Oaks, LLC
General Growth Properties (owner of the Maine Mall).
SPLT also recognizes the City of South Portland for its help in planning the map and Kurt Howard for volunteering his cartographic skills.
New and existing SPLT members will receive a South Portland Map & Trail Guide as part of their membership.
Membership levels are:
$15 Student/Senior
$20 Individual
$35 Family
$100 Small Business
$250 Large Business
To join SPLT, visit joining SPLT or mail a check to:
SPLT
P.O. Box 2312
South Portland, ME 04116
###