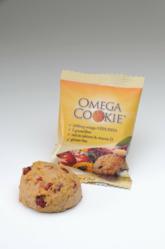 "We believe in providing healthy, yet tasty, nutrition for children"
Venice FL (PRWEB) September 29, 2011
Anne-Marie Chalmers, MD, co-founder of the Venice-based AMBO Foods company, Omega Cookie® says the is a perfect addition to school lunch or an afternoon snack.
"We believe in providing healthy, yet tasty, nutrition for children," Chalmers says. "While the school lunch programs across the country work hard to provide just that, the Omega Cookie® is a healthy compliment that parents can provide as it has no processed ingredients, such as trans fats, preservatives or high-fructose corn syrup."
Presented by the School Nutrition Association, this year's National School Lunch Week theme is "School Lunch - Let's Grow Healthy."
Chalmers says the goal of the program is to create a more nutritious, delicious and farm fresh menu at schools across the United States, while helping curtail obesity and other health problems associated with improper diets.
Individually packaged in cranberry, tropical, chocolate chip and ginger-raisin flavors, the Omega Cookie is the perfect addition to a school lunch box, she says. But, the best part is that the cookie that tastes good is actually very good for you.
Each Omega Cookie contains the fiber of a bowl of gluten-free oatmeal, a full day's dose of omega 3, as well as calcium and vitamin D, and has less sugar than an apple, which Chalmers says easily meets the limits recommended by the American Diabetes Association.
Those interested in ordering one or more boxes of 15 cookies, can call 866-414-0188 and ask for the School Lunch Discount through Oct. 15.
About Ambo Foods: Founded in 2003 by Omega-3 specialists Doctors Bo Martinsen and Anne-Marie Chalmers, Ambo Foods offers several varieties of healthy cookies. Each Omega cookie contains seven capsules worth of omega-3 fish oil, five grams of fiber, 800 IU of Vitamin D and 35% of the daily value of calcium. Ambo Foods was named a winner in the category of innovation at the 2010 annual Economic Development Corporation of Sarasota County's Hall of Fame awards. The honor came as the result of being the first company to create a bakery product that contains an effective dose of omega-3 fish oil. For more information about the Omega Cookie or Ambo Foods, visit http://www.omegacookie.com.
For more information about this release, please contact:
Dr. Anne-Marie Chalmers, co-founder Ambo Foods LLC, 941-485-4400, achalmers(at)omegacookie(dot)com
Charlene Hager-Van Dyke, Larry Vershel Communications, 407-644-4142, chagervandyke(at)yahoo(dot)com
# # #