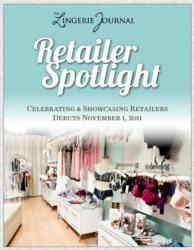 The 'Retailer Spotlight' is open to lingerie retailers and etailers around the world said Luis Paredes, publisher
New York, NY (PRWEB) September 29, 2011
To give lingerie retailers the exposure and recognition they deserve, the Lingerie Journal will launch a monthly Retailer Spotlight feature to its lingerie news website and Facebook page. The new feature launches on November 1, 2011.
"The 'Retailer Spotlight' is open to all lingerie retailers and etailers around the world," said Luis Paredes, publisher of the Lingerie Journal. "Each month we'll select a retailer to spotlight on our Facebook page and website."
The spotlight will include a store profile, owner(s) profile, images and links back to the retailer's online store/site and social media sites Paredes added. "The TLJ team will select the store based on a few criteria listed on the our site," said Paredes. "The philosophy behind this project is to recognize retailers for their hard work and drive traffic to their stores and websites."
On Facebook, the Retailer Spotlight will have it's own tab on the Lingerie Journal's Facebook page.
Paredes encourages retailers to submit their store's entry on the Lingerie Journal for consideration: http://thelingeriejournal.com/retailer-spotlight-submission-form/
The Retailer Spotlight is also looking for sponsors. "It's a great way for a lingerie company or service providers in our industry to reach our readers," said Paredes.
Each month, the Retailer Spotlight will be announced on the publication's website and social media site including twitter (@lingeriejournal) and will include the hash tag #retailerspotlight for readers to keep up with the news.
The Lingerie Journal is the leading US-based online trade publication for the lingerie industry. In addition to the Retailer Spotlight, the site will also launch a wholesale directory. Paredes encourages lingerie companies to list themselves on the Lingerie Journal's upcoming wholesale lingerie directory that debuts October 15, 2011. "It's free to register and you'll be part of a directory and website actively searched by wholesale buyers," he added.
###