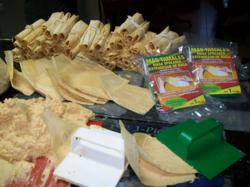 A Tamalada gathering is needed to make the Big Batch
Corpus Christi (PRWEB) September 28, 2011
Mex-Sales Co., Announces New Tamale Masa Spreader key instrument to make the Big Batch of Tamales. A Tamale Spreader helping tamale makers master spreading masa onto a cornhusk or banana leaf and keeping tamaladas alive.
The Big Batch of Tamales recipe and gathering for a Tamalada. The best guide for that big batch of masa is at TamaleSpreader.com. Website has video with step by step video clip instruction on how to make tamales from start to finish. The special techniques and easy recipes are key elements to mass produce great tasting tamales.
"Gathering at a tamalada to make a big batch of tamales is fun and even more fun using the tamale spreader anyone can master a perfect spread. Once mom tries it she will make plenty of tamales and the whole family can help make a big batch. My mission is to promote the growth of Tamale Making for future tamale makers," says Sandra Vasquez, inventor of the Tamale Masa Spreader.
The website is the best guide to make a big batch of tamales. It includes simple tamale dough recipes that can be easily used with any simple filling to make a Tamale meal. It has a recipe for authentic Mexican tamales using lard or oil and fresh masa or masa harina.
The recipe for tamale masa is fool proof. Just decide how many tamales you want to make then choose the amount of masa to prepare. It's simple and easy to make tamales. Please forward any additional recipe help inquires to info(at)mex-sales(dot)com.
More tamale tips, how to do the baby tuck tamales and the six packs. The baby tuck is a very practical way to roll tamales. Spread masa onto a cornhusk then place filling in center. Next, fold one side over meat then fold pointed end towards center. Then roll tamale over, this is the baby tucked tamale. No more problems with that tail that is always flapping. The six packs are can be made using cooking string. Cut several strings twelve inches long. Place six tamales two up, then place the string under and tie snug. String is use to count tamales and to be to pull them out of the hot steamer.
###