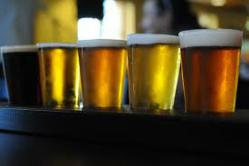 Some people might be surprised to learn that beer, like wine, creates a great harmony when matched with certain foods
Centennial, Colorado (PRWEB) September 30, 2011
This October, Hodson's Bar and Grill, already blazing an exciting trail for upscale, yet comfortable dining in Denver, will feature a delicious four course beer pairing tasting menu. In partnership with Odells Brewing Co. in Fort Collins, executive chef Mike Bickelhaupt has created courses featuring top quality local ingredients and that flawlessly compliment Odells great beers. Book now for October 12, because wine drinkers shouldn't have all the fun.
"Some people might be surprised to learn that beer, like wine, creates a great harmony when matched with certain foods," said Bickelhaupt. "But beer is not simply something to drink by the can in front of football on TV. Light or dark, whether emphasizing wheat or hops, different beers are crafted to unlock essential flavors. I've assembled a menu that perfectly plays off those flavors."
Reservations are $35 each and the menu will include:
1st Course Shrimp Sliders with Lobster Aioli, Butter Lettuce & Cherry Tomatoes paired with Easy Street Wheat
2nd Course Fire-Roasted Poblano and Butternut Squash Soup paired with Levity Amber Ale
3rd Course Denver Ribs with Garlic and Black Sea Salt Fries paired with 5 Barrel Pale Ale
4th Course Chocolate Stout Bread Pudding with Sour Chocolate Ice Cream paired with Cutthroat Porter
Call 720 457 3852 to book a spot at the table for this very special meal.
About Hodson's Bar and Grill Fast becoming the go to restaurant in South Denver, Hodson's is a stylish, upbeat new American restaurant helping put SouthGlenn in Centennial, Colorado on the map. Rotisserie favorites include roasted chicken and slow-roasted prime rib. It successfully balances sophisticated with fun. Whether lunch, dinner or cocktails, Hodson's plush leather booths and soft, tasteful lighting create the perfect atmosphere inside. Outside, a patio fire pit means diners can enjoy can continue to enjoy the patio, even as the evenings get cooler.
###