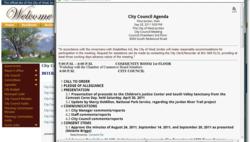 Icount developed the Interactive Utility to help local cities to improve existing websites by adding very dynamic and interactive content to engage with and collect real-time feedback and information from constituents.
Salt Lake City, UT (PRWEB) September 29, 2011
Icount, a new political online community where everyday citizens are empowered to have their opinions heard and their voices counted by politicians throughout the year, unveiled today a pre-packaged website application called Interactive Utility™ that turns any government city or county website into an interactive experience where validated citizens can have their comments entered into public record online, participate in online discussions or polls and even sign-up for a SMS emergency notification service. The Interactive Utility uses the Icount web platform to validate citizen communications, which is compliant with public record requirements and allows residents to participate in government in a meaningful way online.
Icount's Interactive Utility is a website application that uses iframes embedded into existing websites designed to increase citizen participation in the political process through an interactive agenda for public meeting comments, polling and online discussions. Icount's proprietary validation process allows citizen comments to be entered directly into the public record, providing greater awareness and transparency in government.
AVAILABILITY & PRICING
Interactive Utility will be available on October 1, 2011. Those interested can learn more by contacting Icount directly at sales(at)icount(dot)com or by calling 1-801-916-0336. The Interactive Utility pricing is based upon population and starts at $600 per year. Icount's Interactive Utility can be implemented by any standard government website and is designed specifically for local cities and counties.
ICOUNT INTERACTIVE UTILITY PACKAGED SOLUTIONS
Icount has built two packaged solutions that include just a few lines of html code that can be easily added to any standard website. These solutions include:
Interactive Utilities allows residents to participate online in local city and county council meetings as well as for special events such as town hall meetings by embedding the Icount Interactive Utility application onto any standard existing website. Icount's Interactive Utility is public records-compliant, so residents can engage in meaningful government communication by making statements, and participating in polls without having to attend a meeting in person.
SMS (Short Message Service) Emergency Notification Service uses standard text messaging via mobile phone or web to communicate important messages instantly to residents. Similar SMS services have proven valuable to communities across the country to alert residents of natural disasters such as fires, earthquakes or tornados.
Icount Quote
"Similar to other services provided by local cities, Icount is positioned as the online utility that connects cities and their residents in a meaningful way. Interactive Utility is a great way for city and county governments to gain feedback and invite participation quickly and effectively from constituents. Interactive Utility also enables polling and online discussions on important issues directly from existing websites. Icount developed the Interactive Utility to help local cities to improve existing websites by adding very dynamic and interactive content to engage with and collect real-time feedback and information from constituents."

THE ICOUNT PLATFORM
Icount connects constituents with their elected officials by providing an online forum where elected officials can poll validated residents on important city issues, share government-related information and keep an open line of communication. Anyone across the U.S. can sign up to use Icount for free by visiting http://www.icount.com.
Icount uses a proprietary validation process to ensure citizens are connected to their specific elected officials and provides direct communication channels between politicians and users through polls, direct messages, groups, etc. City governments and politicians value using Icount because the information and communications through Icount represents validated voters in their districts (or their constituency), and information exchanged is more meaningful.
ABOUT ICOUNT
Icount helps citizens become informed on political issues they care about, empowers them to have their opinions heard and voices counted, and enables them to impact public policy like never before. Politicians use Icount to stay in touch with their constituents throughout the year.
# # #