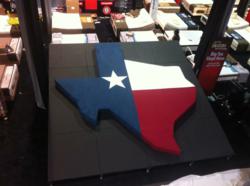 Houston, TX (PRWEB) September 29, 2011
On Saturday, October 1, 2011 at 11:00 am, Mattress Firm will attempt to set the Guinness World Record TM for the world's Tallest Mattress Stack. The event will take place at the State Fair of Texas next to the iconic Big Tex. An official Guinness World Record TM adjudicator will be on-site to verify the attempt.
The previous record was held by Campbellsville University in Campbellsville, KY, in 2009. To officially beat the world record, the stack of mattresses must be free standing and include commercially available mattresses of the same size. Mattress Firm will use king mattresses provided by Sealy. After the attempt, the mattress stack will be on display in the Rotunda (next to the food court) for the duration of the State Fair of Texas.
Mattress Firm is in its fifth year as an official State Fair of Texas sponsor. According to the Fair, the 24-day event in Dallas, TX is the longest running Fair in the nation and has an approximate annual economic impact of more than $300 million annually for the Dallas/Ft. Worth area.
"We are honored to support one of our local communities through sponsorship of such an amazing event. Each year, the Fair brings incredible entertainment, a variety of vendors and mouth-watering food for millions of visitors to enjoy," said Steve Stagner, Mattress Firm CEO. "We are especially excited to celebrate our 25th anniversary at the 125th State Fair of Texas with a world record attempt."
As part of Mattress Firm's official sponsorship, visitors can enjoy the free nightly Illumination Sensation show along the Esplanade reflecting pool. To top off the Fair experience, visitors can take pictures next to a 16'x16' Texas-shaped mattress provided by Simmons. Fair-goers can also take a break from fried food taste testing at one of the four Mattress Firm booths all featuring the most highly recommended bed in America, Tempur-Pedic, as well as opportunities to win prizes ranging from State Fair tickets to a new iPad. Mattress Firm's booths are located in the Centennial, Embarcadero, Rotunda, and Grand Place buildings.
About Mattress Firm, Inc.
Houston-based Mattress Firm (http://www.mattressfirm.com) is one of the nation's premier specialty bedding retailers, offering a broad selection of both traditional and specialty mattresses from leading manufacturers, including Tempur-Pedic, Sealy, Simmons, and Stearns & Foster. Founded in 1986, Mattress Firm's purpose is to improve lives one night at a time. With more than 700 stores across 24 states, Mattress Firm offers consumers the benefit of highly trained, knowledgeable sales professionals, a broad product offering, and competitive prices in an attractive and comfortable store environment.
###