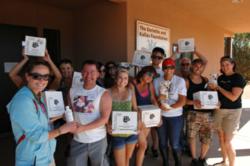 You can't possibly not love this place for what it's doing. I took home with me motivation and happiness knowing that there is such a place as Best Friends to shelter all of our helpless creatures
Kanab, Utah (PRWEB) September 29, 2011
The single largest group ever to volunteer at [Best Friends Animal Sanctuary not only devoted hundreds of hours of hard work over a five-day period, but the animals and staff were looking pretty spiffy when they left.
For the third consecutive year, students of Paul Mitchell Schools donated their time and energy at Best Friends in southern Utah. In addition to volunteering, they donated more than $11,000 in John Paul Pet products, the only pet grooming and hygiene products with a salon pedigree.
This year, 103 students came to the sanctuary from 12 different schools across the United States, all of them ready for another week of volunteering. The hard work actually began long before coming to the sanctuary, as students participated in sales contests to earn their way to Best Friends. In addition, several schools also held fundraisers directly for Best Friends that raised $1,423.70.
"This group of Paul Mitchell Schools Future Professionals really stands out when they visit us ever year," says Faith Maloney, co-founder of Best Friends Animal Society, which operates Best Friends Animal Sanctuary. "Not only are they dedicated to working with all of the animals, whether they are dogs, cats or guinea pigs, but they all look fabulous too. Their black outfits and dynamic hairstyles make a bold statement about who they are and what they do. They embody and define the ethics of The Paul Mitchell School in both action and appearance."
Shawn Claybaugh, director at John Paul Pet, invited every student in the network of 100-plus schools across the county to volunteer.
John Paul Pet products were created by John Paul DeJoria, Co-Founder and Chairman of the Board of Paul Mitchell and are specially formulated to meet the needs of our four-legged friends. DeJoria adds "We are very excited about our relationship and partnership with Best Friends Animal Society. At John Paul Pet, we appreciate the kind work they do for the animals and support their philosophy and culture. We share the goal of making animals better off in the world. Peace, love and happiness."
"The response was incredible," Claybaugh said. "This all began in 2009 with 14 volunteers from one Paul Mitchell school on a one-day outing to the sanctuary. It grew to a five-day trip in 2010 with more than 80 Future Professionals."
John Paul Pet donated 80 cases of pet product at a value of over $11,000.For five days the students volunteered in every animal care area doing hard physical labor like sanding and repainting furniture in the cat rooms, pulling a metric ton of weeds in the dogs' outdoor play areas, and redoing flooring in an indoor arena for special-needs horses.
The students also found one special way to combine their passion for animals with their passion for hair. In the evening after long days of volunteering, they held two "Groomin for the Human" cut-a-thon fundraisers, where they offered haircuts to Best Friends staff and the local community at discounted rates. All proceeds from the cut-a-thon, a total of $867.75 went straight to Best Friends.
One of the students, Jason Dalton of Miami said: "You can't possibly not love this place for what it's doing. I took home with me motivation and happiness knowing that there is such a place as Best Friends to shelter all of our helpless creatures. I am thankful for all I have and all I have to give."
The relationship between John Paul Pet, Paul Mitchell Schools and Best Friends has grown stronger over the years. In addition to the now-annual tradition of bringing so many volunteers from the various schools to the Sanctuary, John Paul Pet and Paul Mitchell Schools show up at Best Friends events around the country, including Strut Your Mutt events and Super Adoptions. They donate pet products, lend a hand wherever needed, and promote Best Friends on their own website Behind the Paw (a new program from John Paul Pet).
About Best Friends Animal Society®:
Best Friends Animal Society is a nonprofit organization building no-kill programs and partnerships that will bring about a day when there are No More Homeless Pets®. The society's leading initiatives in animal care and community programs are coordinated from its Kanab, Utah, headquarters, the country's largest no-kill sanctuary. This work is made possible by the personal and financial support of a grassroots network of supporters and community partners across the nation.
Become a fan of Best Friends Animal Society on Facebook: http://www.facebook.com/bestfriendsanimalsociety
Follow Best Friends on Twitter: http://twitter.com/BFAS
###