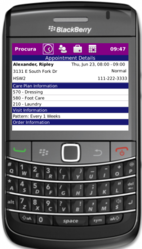 Rarely do you encounter one tool that can so dramatically increase patient care and employee retention while significantly improving productivity and profitability; Procura Mobile does all that and more.
Victoria, B.C. (PRWEB) September 29, 2011
True to their announcement in January 2011 regarding the development of a mobile edition of their popular home health and community care software, Procura announces the launch of Procura Mobile for the BlackBerry® smartphone. Available for implementation immediately, Procura Mobile represents a crucial aspect of an integrated solution for today's home health care agency. Simplifying and improving administrative processes while enhancing communication, Procura Mobile facilitates improved delivery of care and patient safety and decreases operating expenses through accurate patient history, travel, and scheduling information. Currently available to home health and community care agencies in the United States, Canada, and Australia, Procura Mobile integrates seamlessly with Procura's server-side application.
"Procura Mobile enables real-time communication, which means that agencies and their inevitable scheduling changes, or patient updates, and work alone safety concerns can all be managed through a single integrated system," states Scott Herrmann, Director of Mobile Solutions, "The real-time communication and documentation capabilities of Procura Mobile make this a very potent application for home health agencies deploying a mobile workforce."
Having implemented Procura Mobile in pilot programs with two current clients, the benefits to both mobile employees and office staff are evident. Staff can view or create client notes at the point of care, check their schedules and respond to job offers, check in and out of each client location, and use the GPS capabilities and Best Route function to determine the best travel routes between clients. Fully customizable, the application can be configured to address compliancy regulations as well as address agency specific protocols. Automatic capturing of timesheet and travel expense information reduces self-reporting errors and tardiness, increasing efficiency and freeing the care provider to focus on the client, not the paperwork.
Benefits for office staff and managers include automatic verification of actual visits versus those scheduled, automatic travel data, and the immediate acquisition of caregiver activity and client updates. Procura Mobile enables better travel management by calculating best routes, catching "outlier" visits before they happen, eliminating mileage guesses, and optimizing the mobile employee's schedule, thereby increasing agency capacity, efficiency, and productivity. Automated alerts provide valuable check-in/out information, alerting office staff to potential safety and overtime issues in an expedient manner.
"From reducing processing time and manual errors in payroll and billing to improving staff safety and service delivery, Procura Mobile does it all," comments Herrmann, "Rarely do you encounter one tool that can so dramatically increase patient care and employee retention while significantly improving productivity and profitability; Procura Mobile does all that and more.
About Procura
Procura provides the tools to streamline every level of an organization from the clinician at the Point of Care to the Executive Director and higher. Our proven workflow processes, business intelligence, and key data collection tools in both the office and the field provide efficiencies and assurances to drive an organization towards stability and growth.
Procura is the software vendor of choice for home, community and aged care organizations across North America and Australia. Over 12,600 users at more than 600 customer sites use Procura to manage over 69,000 employees. Our customers range from small start-ups all the way through to multi-site and franchise organizations. Headquartered in Victoria, BC, Procura has offices in Chicago, IL, Atlanta, GA and Toowong, QLD and offers a range of solutions for home health care providers including the Procura Home Care Solution, the Progresa Health System and ContinuLink.
###