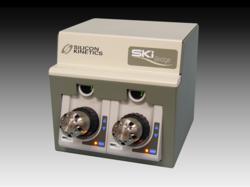 San Diego, CA (PRWEB) September 29, 2011
Silicon Kinetics Inc., the innovative life sciences tool company which developed the world's first 3D biosensor surface for label-free interaction analysis introduced a seamless fluidic/pressure interface between the Company's SKi Pro™ instruments and mass spectrometers, for the AC-MS (affinity capture - mass spec) application. Earlier this year, the Company had announced the adoption of AC-MS by major pharmaceutical and biotechnology companies.
In AC-MS, only the molecules with the desired binding/release profiles are eluted directly into a mass spectrometer, through a fluidic interface called SKi Bridge. "SKi Bridge brings unparalleled ease to the combining of label-free binding with MS detection," said John Ervin, PhD, President. "Most current AC-MS customers use it to perform high throughput screens of small molecule binding, which would be impossible with other label-free instrumentation. AC-MS combines the sensitivity of label-free interaction analysis with the information richness of mass spectroscopy, in a fully in-line setup, useable up to 15,000 psi."
The technology making affinity-capture and label-free detection possible on 3D silicon surface is NPOI, or nano-pore optical interferometry, by Silicon Kinetics.
About Silicon Kinetics
Silicon Kinetics Inc. is a privately-held life sciences tools company headquartered in San Diego, California. The Company specializes in instruments for optical interferometry on nano-porous silicon biochips. The SKi Pro™ instrument platform and the 3D SKi Sensor™ biochips are used to detect protein-protein, protein-drug, or protein-DNA interactions in real-time and quantify binding kinetics, dissociation rates, or biomolecular affinity rankings, required for the study of disease pathways and the development and manufacturing of therapeutics. More information can be found at http://www.siliconkinetics.com
Technical contact:
Martin Latterich, PhD
Silicon Kinetics Inc.
(858) 646-5475
mlatterich(at)siliconkinetics(dot)com
###