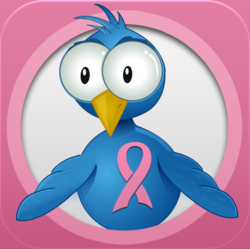 With TweetCaster PINK, you can tweet in style, show your support and help save lives by spreading the word
Kansas City, Mo. (PRWEB) September 29, 2011
Leading social app company OneLouder is proud to announce its TweetCaster PINK App for iPhone and iPod touch is now available on the App Store. The Special Edition Twitter app includes all the best features from the leading TweetCaster Pro for Twitter App with a distinctive pink theme to support Breast Cancer Awareness, in partnership with the Feel Your Boobies® Foundation.
TweetCaster PINK is immediately available to download on the App Store and the Android Market for Android phones for $9.99. OneLouder donates 50 percent of all TweetCaster PINK proceeds to the Feel Your Boobies Foundation.
"Breast Cancer Awareness month is a great time to recognize those who have been impacted and raise awareness by sporting your pink gear," said Evan Conway, President, OneLouder. "With TweetCaster PINK, you can tweet in style, show your support and help save lives by spreading the word."
Since launching the Android version of the app earlier this year, OneLouder has helped the Feel Your Boobies Foundation fund more than 1 million 'Feel Your Boobies' reminders around the world.
"We continue to embrace social media as the primary outlet for reaching young women," said Leigh Hurst, Founder of Feel Your Boobies. "The TweetCaster PINK app is perfect for this and we are fortunate to have OneLouder as a great partner who helps us reach a large audience of social users."
Feel Your Boobies®, a non-profit breast cancer organization, was founded by Leigh Hurst in 2004 after she was diagnosed with breast cancer at age 33. Its mission is to create an annual reminder campaign that utilizes unexpected and unconventional methods to remind young women to "feel their boobies."
For more information about the app visit http://www.tweetcaster.com/pink or to learn more about the Feel Your Boobies Foundation, go to http://www.feelyourboobies.com.
When tweeting, please use hashtags #feelyourboobies and #tweetcaster.
About OneLouder:
OneLouder is focused on creating a whole new breakthrough category of social apps across major mobile platforms to provide consumers with a more personalized and enjoyable mobile experience. Drawing from social and crowd-sourced content, as well as digital news and entertainment sources, OneLouder delivers content that users can more easily manage based on their specific interests. The company has more than five million active users across its top rated apps, including TweetCaster, FriendCaster, and SportCaster. For more information visit http://www.onelouder.com; follow us on Twitter and become a fan on Facebook.
###