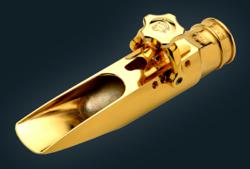 The AMMA mouthpiece is just the mouthpiece sax players have been waiting for. There is no need to look for vintage mouthpieces anymore. I believe the AMMA sets a new standard in saxophone mouthpieces (Jeff Coffin)
Bellingham, WA (PRWEB) September 28, 2011
Theo Wanne Classic Mouthpiece customers made it clear to the renowned woodwind maker; the AMMA is still a popular and loved mouthpiece model. With the intent of simplifying their line-up, Theo Wanne proposed discontinuing the AMMA model. But, customer emails, forum discussions, and continued sales orders made it clear that the AMMA model will stay in production.
The AMMA tenor saxophone mouthpiece was the first model introduced by Theo Wanne Classic Mouthpieces in 2007 after years of development.
Theo Wanne says about his creation, "I developed the AMMA tenor saxophone mouthpiece model concept by integrating my work and the feedback I received over 15 years from top professional musicians like Jeff Coffin, of The Dave Matthews Band, when customizing vintage Otto Link mouthpieces."
The AMMA has the famous vintage Link sound but with more projection and power. It is a medium bright mouthpiece with a uniquely warm and robust sound ranging from low Bb into the altissimo. Because it is both projecting and yet maintains the vintage sound, it is a very versatile mouthpiece.
The AMMA has grace and style. It has an incredibly complex, yet beautifully sculpted, interior design incorporating Theo Wanne's revolutionary TRUE Large Chamber. The TRUE Large Chamber ensures a warm, fat, robust sound with unmatched manufacturing precision.
Being the world's premiere mouthpiece manufacturer, Theo Wanne Classic Mouthpieces is attracting the world's top musicians, dealers and distributors, as well as other companies looking for higher quality OEM products.
Theo Wanne Classic Mouthpieces has been growing over 100% a year since their first products in 2007. The company is legendary for revolutionary products that inspire musicians, and Theo Wanne is the eminent world expert on saxophone mouthpieces. You can learn more about Theo Wanne by watching their new company video, An Introduction to Theo Wanne Classic Mouthpieces.
# # #