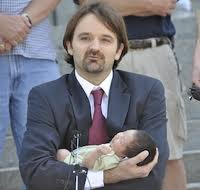 Mexico City, Mexico (PRWEB) September 28, 2011
The Supreme Court of Mexico ruled on Wednesday to uphold the state constitutional personhood amendment of Baja California (11/2009). A similar decision in the San Luis Potosi case is expected (62/2009). The Court's most recent appointee, Justice Jorge Mario Pardo Rebolledo, sided with three members of the Court to reject an Action for Unconstitutionality submitted against the measures. Pardo Rebolledo was appointed last February and had yet to rule in an abortion case. His vote ensures that the Court will not reach the supermajority necessary to overturn the amendment.
"Pardo Rebolledo, as well as Justices Salvador Aguirre, Margarita Luna, and Guillermo Ortiz have our gratitude," said Personhood USA Legal Analyst Gualberto Garcia Jones, J.D. "Thousands of Mexican girls and boys will, one day, be able to thank them personally for defending their very right to exist."
In total, eighteen states have passed measures enshrining into law full personhood protections for preborn children. The amendments were passed in reaction to the legalization of abortion in Mexico City in 2009. The state measures received the support of 88% of the members of state legislatures including members of every major political party such as PAN, PRI, and PRD.
On September 19th, 50 nonprofit organizations took out a full-page ad in the largest newspaper in Mexico, El Universal, expressing their concern and opposition to any actions which would overturn the personhood amendments. On September 22nd, three dozen state and federal legislators took out a similar ad in El Universal urging the Mexican Supreme Court to respect the democratic process. Personhood USA joined the organizations, legislators, and millions of Mexican citizens in support of the amendments.
The executive branch of Mexico also weighed in on the developments this week. President Felipe Calderon submitted to the Senate a withdrawal of reservation to the first paragraph of Article 4 of the American Convention on Human Rights. Mexico entered into the treaty in 1981, but interpreted the provision the same year so that it would not oblige the country to protect life from conception.
"Mexico has recognized human rights enshrined in international treaties such as the American Convention of Human Rights and the International Covenant on Civil and Political Rights, among them the right to life, which is protected by our legislation, both federal and local," read Calderon's statement. "Mexico endorses a commitment to the right to life as protected by Mexican law."
First lady Margarita Zavala wrote an editorial this week endorsing the personhood measures. "I am a woman and a lawyer who has fought for the rights of women, and I am convinced that the rights of women do not override other rights and therefore need not be the cause of invalidating the state reforms," she said.
"Today, the rule of law was victorious in Mexico. Unlike the United States, Mexican states are free from judicial tyranny and the people retain the right of self-determination," continued Garcia Jones. "The Mexican people recognize that every human being is a person, and that all persons are inherently possessed of the right to life. We commit to work towards the day when this truth is realized for all children in Mexico, the United States, and around the globe."
###