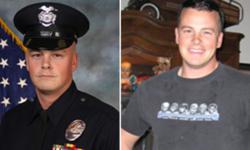 Topanga, California (PRWEB) September 30, 2011
On October 17, 2011, Topanga Area LAPD will honor Josh Cullins, by holding a golf tournament fundraiser at the Woodland Hills County Club in Woodland Hills. Officer Cullins is a fallen Police Officer and United States Marine who was killed by a roadside bomb in Afghanistan. A Marine Corps reservist, Cullins was serving with the 3rd Battalion, 6th Marine Regiment in Marja, in Afghanistan's dangerous Helmand province.
This is the first fundraiser the Topanga area LAPD is holding and being the inaugural event has attracted great support from the community. The cost per player is $125 and includes dinner, cart, drawing and 18 holes.
Tim Conway Jr, one of LA's premier radio hosts will host the event. Tim hosts on KFI from 7:00 to 10:00 each weekday night. He was recently recognized as the 5th most popular host in Los Angeles.
In attendance will be Officer Josh Cullins' family and the LAPD Bomb Squad members who were trained by Josh will be on hand to meet the supporters of the scholarship to be awarded in Josh's name. There will also be Topanga sworn and civilian members to provide their insight and discuss the experiences they had with Josh.
There will be two beneficiaries. The first will be the $1000.00 Josh Cullins Scholarship which will be provided to his alma mater at Royal High School, Simi Valley. In addition to the scholarship, the roll call room at Topanga will be dedicated in Josh's name, complete with a portrait of Josh and a brass nameplate to be affixed to a front row seat where Josh sat. The second beneficiary will be the Topanga Area station fund, which supports the men and women of Topanga Area.
Additionally there will be the Topanga Area state-of-the-art mobile command post vehicle, motorized personal transporters called "T3"s, and Topanga's own customized golf cart will be on display.
This event has attracted some big name sponsors including 800LoanMart, Vista Ford and the Los Angeles Federal Credit Union.
###