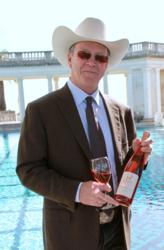 Sonoma, CA (PRWEB) September 30, 2011
During this special evening at Ramekins, Steve Hearst, great grandson of William Randolph Hearst, will tell stories about his family's rich history in California. Guests will learn about the family's long withstanding tradition in ranching and conservation while they are served a menu featuring Hearst Ranch grass-fed beef paired with world-class, award-winning wines from Hearst Ranch Winery.
The Hearst family is one of the most prominent historical families in California. Built by William Randolph Hearst in 1919, Hearst Castle in San Simeon is one of California's most prized treasures and visited state parks. Prior to the building of the castle, William's father, George Hearst began the legacy of quality cattle breeding and careful stewardship of the land in San Simeon by developing one of the finest stock farms in the state and now the nation's largest purveyor of free-range, grass-fed beef. This tradition of ranching and land stewardship is carried on today by the Hearst family.
Ramekins Executive Chef Doug MacFarland will prepare the following menu paired with wines from Hearst Ranch Winery:

Hearst Ranch 2009 Chardonnay: Thinly Sliced Eye of Round Carpaccio with Belgian Endive, Crispy Capers, Fresh Lemon and Shaved Parmigiano Reggiano
Hearst Ranch 2009 Tempranillo: Beef Bourguignon Cannelloni with Celery Root Purée and Red Onion
Hearst Ranch 2009 Cabernet Sauvignon: Roasted Strip Loin with Rissole Potatoes, Carrot Purée and Sauce Bordelaise
Hearst Ranch 2007 Late Harvest Zinfandel: Cow Girl Creamery Mt. Tam with Dried Cherry Mostarda
To register for the Salon Dinner, contact Ramekins at 707-933-0450 or email at info(at)ramekins(dot)com. Registration is also available online at http://www.ramekins.com.
###