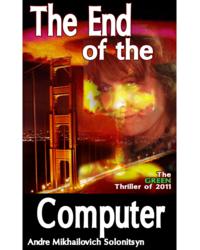 Kailua Kona, Hawaii (PRWEB) September 29, 2011
The End of The Computer is being called the GREEN Thriller of 2011... but it is even more than a white-knuckle ride unlike any other.
Al Gore's "An Inconvenient Truth" was earth shattering... but not Earth moving. The world is in worse shape now than it was then.
The End of The Computer takes a different path. It is a multi-level, entertaining, rabidly exciting thriller... but with a subtle core that uncovers some of the most crucial issues of our times. It brings the reader step by step to some very personal conclusions that could give Planet Earth a new lease on life. Fun and making a difference at the same time. Doesn't get any better than that. The perfect Christmas gift.
The story follows a group of exceptional people who create a hyperintelligence that surprises them with its wit, charm and kindness, whose driving motivation is, of all things, love of family. But there is a catch. In the first moments of its existence, powerful forces attempt to put an end to it. And the people around it.
Driven to questionable actions by the pressure of imminent doom, the computer sets into motion a complex scheme to help his new family... and the entire world... survive.
The intricately developed people in this fictionalized chronicle keep making mistakes that work against their survival. But their saving virtue is that despite their initial self-centeredness, they have good hearts, and have retained the ability to learn and grow. As they fall deeper and deeper into a morass of deadly trouble, they find that to save themselves, they must also save the rest of the world. For real. And they become people they could have only dreamed of being, if they had not gone on this fantastic journey through the fires of perdition.
After introducing two tightly knit groups, one from Moscow and one Berkeley, the book takes off at a savage pace, with chapters so different from each other, it is fascinating to watch the author hold the story together in such a tight grip all the way to the end... and beyond.
Part of that beyond is recipes. Honestly. Written by the people in the book. Easier to understand than most recipes because of their great detail, and some of the best eating in the world. But the hook is, you can feel each person in the recipe they write. This is a fantastic post-story idea for a thriller, and also very kind. Because after the story finishes, you wish there were more. Fortunately, there is. About twenty pages more.
This is one of those rare books you want to read over and over. It has such deep, complex thoughts and heartfelt emotional epiphanies, you get more from it each time. It is an unique thriller that does not become less exciting because you know the end. You leave the theater of your mind smiling, and want to return as soon as possible to the Valley of Thunder.
The End of The Computer is the work of a master storyteller and practiced wordsmith who has been published constantly for over thirty years. He has crafted everything from science fiction, to Hawaiian history, to a postpartum guide, to a blog about current events in the Middle East, as well as a compendium of commercial works. An alumnus member of the Science Fiction Writers of America. An alumnus editor of Black Belt magazine. An honored alumnus of the University of California at Berkeley in the 1960's. All of which tie into this quintessentially eclectic story.
The End of The Computer
The GREEN Thriller of 2011
Andre Mikhailovich Solonitsyn
Edited by Patrick G. Conner
Available at Amazon.com, also at Barnes & Noble, iBooks, iTunes, Sony Reader, and other distributors
Reviewers, to be gifted an eBook copy from Amazon, send your email to hawaiiad(at)hawaii(dot)rr(dot)com with the subject The End of The Computer. Please included your name and your organization. Please be advised that Amazon has free reading apps now that allow eBooks to be read on virtually every computer platform, including desktops.
Please direct any questions or request for more material to Colleen, email: hawaiiad(at)hawaii(dot)rr(dot)com
###