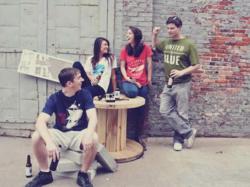 "At UBB, we believe that each product shouldn't just be environmentally friendly, it should do something that's environmentally-friendly,"
Philadelphia, PA (PRWEB) September 30, 2011
As the holiday season approaches, United By Blue (UBB), an ocean-friendly brand of apparel, is gearing up for a season of eco-friendly gift-giving.
Environmentally Friendly Materials Are Only a Start
There are a lot of environmentally friendly products on the market. You've got your organic cotton socks, you've got your bamboo furniture, and your artisanal glass reusable water bottle. And as the holiday season approaches, more shoppers than ever are on the hunt for eco-friendly gifts that will leave a lasting impression on their loved ones.
UBB, a Philadelphia-based brand of ocean-friendly apparel, believes that using environmentally-friendly materials in their products is a great first step to sustainable gift-giving, but it's only the beginning. "At UBB, we believe that each product shouldn't just be environmentally friendly, it should do something that's environmentally-friendly," says Brian Linton, the company's Founder and Chief Trash Collector. It's why UBB associates every product sold with the concrete action of removing one pound of trash from oceans and waterways around the world.
"When you give UBB, you give actual, concrete environmental action. You give the good deed of removing one pound of trash from oceans and waterways around the world," says Mike Cangi, UBB's Director of Cleanups. "And because all life on land depends on the health of our oceans, UBB products aren't just blue gifts, they're green gifts, too."
Taking Eco-Chic to a Whole New Level
The cause-conscious clothing brand sells organic cotton t-shirts that are a great holiday gift idea for those looking to give eco-conscious gifts and for those looking to give a unique and fashionable gifts.
UBB draws inspiration from vintage nautical motifs and forgotten beauty. "Some of our best selling products feature bicycles and windmills, emblematic of an era gone by during which some of our activities were a bit kinder to the planet," says Linton.
"We understand that the environmental mission doesn't mean anything without a product that people actually want to wear, so we use only the softest stonewashed slub cotton for our shirts and 100% sterling silver in our jewelry," says Alli Blum, UBB's Director of Marketing.
When UBB designs embrace environmental themes, they do so artistically. "One of my favorite shirts from the winter line is our Support Sustainable Seafood shirt, which reminds me of Cannery Row in Monterey, California or Pike Place Fish Market in Seattle," says Blum. "And because our products combine design with doing good, we expect it will be one of the top Christmas and holiday gifts of 2011."
A Great Gift For Everyone
Because UBB offers t-shirts in both men's and women's cuts, their vintage-nautical inspired shirts are great gift ideas for the always-hard-to-shop-for husbands and boyfriends just as they're great holiday gift ideas for women and girlfriends.
"You don't have to be a die-hard environmentalist or ocean advocate to want to sport the UBB look," says Cangi. " You just have to want to wear a super soft t-shirt with a design you won't find anywhere else."
Because their products are so versatile, UBB expects to see them at the top of many gift guides this holiday season.
"UBB products make it possible to look and feel great while you're taking a stand for our world's oceans," says Linton. "And we look forward to seeing many gift-givers spread the Blue Movement this holiday season."
###