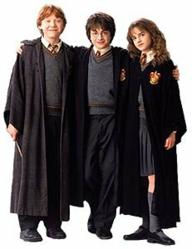 TotallyCostumes.com is stocking Harry Potter costumes, wands and accessories so that fans can celebrate in costume at their Harry Potter party events.
Mancos, CO (PRWEB) September 29, 2011
A full collection of Harry Potter costumes and licensed accessories are available from TotallyCostumes.com so fans can celebrate the November 11th DVD release of Harry Potter and the Deathly Hollows Part 2. On the same day, Harry Potter: The Complete 8-Film Collection will be released in Blu-ray and DVD combo pack. TotallyCostumes.com is stocking Harry Potter costumes so that fans can celebrate in costume at their Harry Potter party events.
The deluxe Harry Potter Costume for kids and adults will include a black ankle length Gryffindor robe with an attached re-lined hood, red accents, front close clasp and a Gryffindor Crest patch on the chest. The embroidered patch is an official Gryffindor coat of arms and the clasp on the front works to keep the magic wizard robe secured. Although the Harry Potter Robe Costume is labeled for Harry, it can also be used for Ron Weasley, Hermione Granger or any Gryffindor student wizard costume. A Gryffindor House Scarf, Gryffindor House Beanie Hat, Gryffindor Tie and Gryffindor Knit Hat & Scarf Kit are a few of the accessories fans can use to enhance their cosplay.
For fans who prefer the House of Slytherin, TotallyCostumes.com offers a range of Slytherin Robe Costumes for kids. The Slytherin Robe Costume features a black ankle length robe with an attached hunter green-lined hood, hunter green accents, working front close clasp and a Slytherin Crest patch over the chest. The Slytherin Robe can be used for any Vincent Crabbe, Gerald Goyle or Draco Malfoy costume. A Slytherin Tie and Slytherin House Beanie Hat are available accessories to help enhance cosplay.
Beyond the classic Harry Potter Robe Costume, fans can find a large variety of other character costumes. The collection includes a Harry Potter Quidditch Costume, Death Eater Costume, Dementor Costume, Voldemort Costume and Hedwig the Owl Costume. Harry Potter costumes for women can even be found with their unofficial styles of Wizard Academy School Girl Costume and Wizard Wanda Costume.
Harry Potter costume accessories make it fun for fans to enhance their cosplay costumes with additional detail or to use as a collectible. The Harry Potter Quidditch Kit is an accessory set complete with goggles, arm guards, shin guards and gloves. A selection of Harry Potter Wands is available in styles for Harry, Hermione and even a deluxe light-up wand with sound. Harry Potter glasses can be purchased alone or in a set with a Harry Potter Wand. There are plenty of Harry Potter Witch Hats that fans will be familiar with such as the Sorting Hat, Professor McGonagall's Hat, Howarts Student Hat and Hogwarts house knit beanie hats. A Voldemort Mask and costume hands can be found for enhancing the evil wizard's look. A Dobby mask and costume hands will complete the friendly house elf costume. Consumers can create an even more eerie feel to their Dementor Costume with the dementor costume hands. A selection of Harry Potter cardboard standups are also available at TotallyCostumes.com and makes a great addition to a Harry Potter party event.
About the Company:
TotallyCostumes.com, a leading retailer of costumes and costume accessories for all occasions, makes sure the party never stops! This e-commerce costume retailer believes in carrying a large selection of high quality costumes in all sizes, styles and themes to fulfill any party, costume or event requirement. They have a dynamic team that works together so their customers receive their order quickly. Their friendly customer care team is dedicated to providing their customers with diligent service while their shipping facilities work efficiently in shipping your order out as quickly as possible.
###