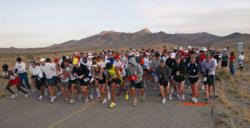 It's going to test the best of the best.
Mesquite, Nev. (PRWEB) September 29, 2011
A unique pair of challenging running events are sure to test the fields when the "Victory in the Valleys" is presented Nov. 19-20.
The third annual $5,000 Mesquite Tri-State Marathon Nov. 19 will begin in Utah before winding through a portion of Arizona and ending inside the CasaBlanca Event Center.
On the following day, the annual Valley of Fire Marathon will be presented in the Valley of Fire State Park south of Mesquite. Both events will be coordinated and presented by Planet Ultra of St. George, Utah.
"We are very excited about these two events being run on the same weekend," said Debbie Bowling of Planet Ultra which has been conducting events since 2001. "The two events combine for a real challenge considering that some runners will have to cover more than 52 miles. It's going to test the best of the best."
Bowling said the Mesquite Tri State Marathon course has been changed and will include more of Highway 91 in Utah before descending into Arizona and Nevada.
"The Mesquite Marathon will be much more of a direct route to the CasaBlanca," she explained. "We will have more of a flat run back to the finish line which will be inside the CasaBlanca Event Center. We will have a live DJ who will be announcing the finishers. It will create a really fun party atmosphere."
Bowling also said the Planet Ultra's state-of-the-art timing system is unmatched. The company presents world-class running and cycling events in Utah, Nevada and California.
"We use an RFID Jaguar timing system," Bowling explained. "This is the best technology in marathon timing and we will have the real time results immediately both during the race and when a runner completes the event."
Bowling also added that the Mesquite Tri-State Marathon will be certified as a Boston Marathon qualifier. The $5,000 purse is being sponsored by the Mesquite Resort Association.
Also included in both events are divisions for half-marathon, 10K and 5K runs.
Further information can be found by visiting http://www.mesquitemarathon.com; or by calling Mesquite Gaming Sporting Event Manager Christian Adderson at 888-711-4653, ext. 51; or Debbie Bowling at Planet Ultra, 818-624-4544.
Contacts: Debbie Bowling, Planet Ultra, 435-624-4544; Christian Adderson, Mesquite Gaming, 888-711-4653, ext. 51; Mike Henle, The Idea Company Public Relations, 702-279-3483.
###