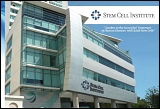 Dallas, Texas (PRWEB) September 29, 2011
Join us for informational presentations by Stem Cell Institute's Medical Director, Dr. Jorge Paz Rodríguez, MD, and President and Founder, Dr. Neil Riordan, PhD. Stem Cell Institute patients will be on hand to share their experiences.
Saturday, October 15, 2011
12:30 pm to 4:30 pm
Hilton Dallas/Southlake Town Square
1400 Plaza Place
Soutlake, TX 76092
Topics Include:
How adult stem cells control pain, stimulate organ repair, reduce inflammation, and regulate the immune system - Neil Riordan, Ph.D., President and Founder, Stem Cell Institute
Using your own fat stem cells for arthritis, sports injuries, and autoimmune disorders - Jorge Paz-Rodriguez, M.D., Medical Director, Stem Cell Institute
Admission is free but space is limited.
To register and reserve your tickets visit: http://cellmedicineseminars.eventbrite.com
For more information contact:
Cindy Cunningham
Patient Events Coordinator
Stem Cell Institute Panama
1-800-980-7836
About the Stem Cell Institute
Founded in 2006 on the principles of providing unbiased, scientifically-sound treatment options, the Stem Cell Institute has matured into the world's leading adult stem cell therapy and research center. In close collaboration with universities and physicians world-wide, our comprehensive stem cell treatment protocols employ well-targeted combinations of autologous bone marrow stem cells, autologous adipose stem cells, and donor human umbilical cord stem cells to treat: multiple sclerosis, spinal cord injury, osteoarthritis, rheumatoid arthritis, heart disease, and other autoimmune diseases. To-date, the Institute has treated over 1000 patients.
For more information on stem cell therapy
Stem Cell Institute Website: http://www.cellmedicine.com
Stem Cell Institute
Via Israel & Calle 66
Plaza Pacific Office #2A
Panama City, Panama
Phone: +1 800 980-STEM (7836) (USA Toll-free)
+1 954 636-3390 (from outside USA)
Fax: +1 866 775-3951 (USA Toll-free)
+1 775 887-1194 (from outside USA)
###