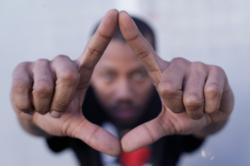 We're confident he'll continue to make waves with us and help make this label a hip hop force to reckon with
Vancouver (PRWEB) September 29, 2011
Canadian record label Wandering Worx Music announced today the release date February 28th 2012 for Planet Asia's much anticipated album Black Belt Theatre. The album features Raekwon, Paul Wall, Talib Kweli and many others.
Since emerging as a dynamic young rapper in the late 1990s, Planet Asia has churned out massive hits and singles, which garnered him attention from critics and media outlets around the country. Hailing from Fresno, California, this impeccable lyricist eventually moved to Los Angeles, where his career blossomed into a full-fledged phenomenon.
He has won The Source Magazine's Independent Album of the Year twice, and has worked with some of the biggest names in the business including Ghostface Killah, Talib Kweli, Raekwon, Will i am, and Linkin Park.
"We're ecstatic to welcome such a hard working artist to the family," says Rodney Davidson, Wandering Worx co-founder. "Planet Asia has been catching critical attention since the late '90s, and we're confident he'll continue to make waves with us and help make this label a hip hop force to reckon with."
Based in Vancouver, BC, Wandering Worx Music was launched in October 2010 as the official record label of Wandering Worx Entertainment. The label's debut release, Rel!g!on's Revelationz 1, has already received critical acclaim, with the record's first single Lucid, featuring Moka Only and E.D.G.E, in rotation on Much Music. The label is also working on a project with Grammy Award Winning Producer Chin Injeti, who has collaborated with Kanye West, Drake and 50 Cent, in addition to producing two tracks on Eminem's Recovery.
###