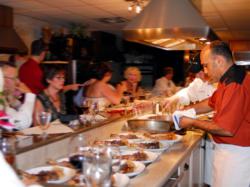 even the simplest ingredients can create amazing flavor combinations
Milwaukee, WI (PRWEB) September 29, 2011
Milwaukee's celebrity Chef Michael Feker of IL MITO Enoteca and CMF's School of Culinary Magic continues his mission to get his guests back in the kitchen and cooking again through his Lunch and Learn cooking demonstrations. Feker's passion for food and life motivates him to share his culinary knowledge in hopes of helping others bring health and flavor into their lives. For only 15 dollars per person (excluding beverage, tax and gratuity), Feker's upcoming Lunch and Learn events include: Curried Butternut Squash Soup on Saturday, October 22 at Noon; Thanksgiving Turkey Brine and Stuffing on Saturday, November 5 at Noon; Thanksgiving Sides, Feker's Sweet Potatoes and WI Cranberry Sauce on Saturday, November 12 at Noon; and Holiday Creations on Saturday, December 10 at Noon. Reservations can be made by calling 414-443-1414 or by exploring http://www.ilmito.com
"I want my guests to walk away with a foundation that will allow them to create healthy meals at home for themselves and their families. I do not teach my guests how to follow a recipe, I share with the knowledge I have gained from my classical French training to tricks-of-the-trade in the restaurant industry: its not about the hows, its about the whys," explained Feker. "Even the simplest ingredients can create amazing flavor combinations."
In addition to Feker's Lunch and Learn events, he hosts numerous dinners where guests dine at his Chef's Counter, watching on eagerly and hungrily as he prepares and presents their dinner. A state-of-the-art kitchen, accented with Feker's personal touches for a warm and welcoming atmosphere, provide the perfect setting for a unique and educational dining experience.
About Chef Feker and IL MITO
Chef Michael Feker offers an exclusive Chef's Counter where he hosts private dinners/cooking demonstrations, as well as private lessons for individuals or couples. To learn more about upcoming events and other culinary opportunities, explore ILMITOcooking.com
IL MITO is located in Wauwatosa at 6913 W. North Avenue. LUNCH is served Tuesday through Saturday 11am to 2pm; Sunday BRUNCH with Bloody Mary Bar 10am to 2pm; DINNER: Tuesday through Thursday 5 to10pm, Friday and Saturday 5pm to 11pm and Sunday 5pm to 9pm. IL MITO also offers GLUTEN-FREE menus, as well as full-service CATERING, private dinners, carry out and deliveries.
Reservations can be made online at ILMITO.com or by calling 414-443-1414.
Keep up to date on Twitter and Facebook at: http://twitter.com/cheffeker and http://www.facebook.com/pages/IL-MITO-ENOTECA/10304511
###