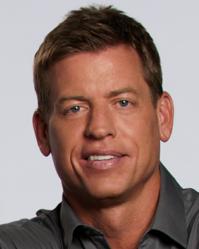 They don't always make the sports section, but we believe these kids deserve recognition and their own moment of glory
Bend, OR (PRWEB) September 29, 2011
"RUDY! RUDY! RUDY!" Is there a more iconic chant in Football?
Inspireum didn't think so when they created the High School Football 'Rudy' Awards in 2009. With a selection committee that boasts NFL legends Troy Aikman and Drew Bledsoe, recent inductee into the Patriots Hall of Fame, this Oregon based company has today announced the Inspireum Soccer Awards, aimed at finding the 'Rudy' on each soccer team around the nation.
'The Rudy Awards,' as they're referred to by those in the know, are all about heart. The award, which offers a hefty annual college scholarship fund of $25,000, is for the kids who have the heart, not the stats. We all know a 'Rudy'. He's the kid told by his doctor that he shouldn't really play football, but does anyway. He's the kid whose family, like so many, are struggling to pay for his uniform and cleats so he launches a car wash or takes on the paper route just so he can 'stay in the game.' Perhaps it's the girl who keeps being told she really should play a more lady-like game, but who can be found wearing a pad and helmet under those Friday night lights. These kids never quit, and they never give up. Regularly hitting the upper echelons of sporting and inspirational movie Top Ten lists since it hit the screen in 1993, the name 'Rudy' is now synonymous with anyone fighting to believe in the Dream.
Just as they have done with their High School Football 'Rudy' Award selection committee, Inspireum recruited legendary coaches Steve Sampson and Jurgen Klinsmann to lead the search for soccer's 'Rudy.' Sampson, the former coach of the U.S. Men's National team and LA Galaxy is no stranger to watching professional athletic talent in action. "I've seen a lot of extraordinary athletes in my time," Sampson said as he discussed the Inspireum Soccer Awards. "What I love about these awards is that we're acknowledging those kids that inspire everyone else on their team. Sure, they may not always score the winning goal. But I bet they inspired everyone who knows them, and the kid who did score the winning goal. With so many youngsters dropping out of sports, it's the 'Rudy' on the team that keeps kids in the game. And that benefits everyone." Sampson is referring to the cold, hard fact that 70% of kids drop out of youth sports before the age of 13. Inspireum's own goal is to 'get and keep kids in the game.' Their inspirational focus comes from the awards platform, offering over $100,000 in college scholarships in their first three years alone.
"Since we founded the High School Football 'Rudy' Awards, we've uncovered extraordinary kids who are overcoming heart-wrenching challenges," John Ballantine, Inspireum's founder said recently. "Inspireum's focus is to honor kids who bring heart and passion to their game, and in doing so inspire everyone around them. Just like Rudy, they come to every practice and give 110%. They don't always make the sports section, but we believe they deserve recognition and their own moment of glory."
Think you've got a 'Rudy' on your team, in your family, or at your school? Nominate them for either the High School Football 'Rudy' Awards, or the Inspireum Soccer Awards. The nomination process is the same for both and is detailed on the individual award website. Who knows? Maybe at the end of the season your 'Rudy' will be carried off the field after scoring, against all odds, the final touch down or goal of the game.
How to nominate, and for additional information, go to:
http://www.HighSchoolRudyAwards.com
High School Football Rudy Award Deadline: Voting commences September 30, Nominations close October 26.
http://www.InspireumSoccerAwards.com
Inspireum Soccer Awards Deadline: Voting commences October 6, Nominations close November 9
About Inspireum
Inspireum is a social enterprise dedicated to rewarding outstanding youth achievement that inspires the next generation and strengthens our communities. We discover, amplify, and celebrate stories of youth that overcome adversity and inspire others to achieve. Our technology, program, and financial resources provide the inspiration, motivation, and opportunity for youth to engage in sports and service as hands-on, action-oriented paths to leadership, academic performance and healthy lifestyles. In partnership with the Trusted Sports Foundation we work to inspire and empower all youth, regardless of socio-economic status, to thrive in life through positive sports experiences.
###