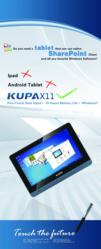 the combination of the intuitive user interface of Workbox 2010 and the pen + touch interface of X11 is the perfect realization of seamless cooperation between human and machine
Los Angeles, CA (PRWEB) September 29, 2011
Kupa and Datapolis announce joint product demonstration of X11 tablet computer and Workbox 2010 workflow solution at Microsoft SharePoint Conference 2011 in Anaheim, CA. Both parties believe that the combination of the intuitive user interface of Workbox 2010 and the pen + touch interface of X11 is the perfect realization of seamless cooperation between human and machine. Users are welcomed to visit Kupa Booth at 271 and Datapolis Booth at Booth 671 to test drive both X11 and Workbox 2010.
Datapolis Workbox 2010 is the user-friendly and flexible workflow solution for SharePoint 2010. Delivered with a graphical designer deeply integrated with SharePoint Workbox allows fast creation and rapid deployment of workflows. Thanks to its two-layer architecture Workbox empowers business users to participate in workflow creation and provides collaboration platform for business and technical users. Workbox workflow architecture and user interface were designed to create and handle human – centric processes: the processes aimed at the participation of people and decision-making by users.
Kupa X11 is the next generation Windows based table PC with pen + touch dual input system, 10 hours battery life and many unique features that are not found in current tablet computers:
Pen + Touch Input System with pen is the sensitive to different levels of pressure
10 hours continuous operation and 30 days standby battery life with a single charge
Robust , energy efficient and silent operation with thin and light profile result from solid state design
128GB SSD is the largest storage option of any tablet computer
Wi-Fi, 3G, Bluetooth, USB and mini HDMI offers full connectivity, wireless or wired
Dual cameras: Front 2MP / Rear 5MP
Embedded full GPS Chip, the first of its kind in any tablet PC or laptop
Enterprise security features such as fingerprint scanner and Trusted Platform Module
Dual antenna design for Wi-Fi, and 3G for maximum signal strength
Windows 7 Professional
KUPA is a computer hardware manufacturer focusing on mobile and green technologies.
Datapolis develops user-friendly and flexible solutions for SharePoint environments which support dynamic processes, information and document flows in medium and large companies.
###