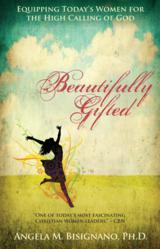 "Every woman yearns to know God's high calling for her life."
Los Angeles, CA (PRWEB) September 29, 2011
Dr. Angela Bisignano launches her new book on empowering women in their calling. In this highly technological and modern world, "it's incredibly difficult for women to slow down," says Dr. Angela. "In that extremely rare, quiet moment, who is able to turn down the mental static, and ask, 'What is my calling? Why was I put on this Earth?'"
A consultant with a Ph.D. in Clinical Psychology and an M.S. in Ministry, author Angela Bisignano can relate. In Dr. Angela's work with individuals and small groups, she began noticing more women asking these questions. So she began a workshop to help women discover their unique gifts and calling, and witnessing its tremendous impact, turned the program into a book: "Beautifully Gifted: Equipping Today's Women for the High Calling of God."
Named in May 2011 as "one of today's most fascinating Christian Women Leaders" by the Christian Broadcasting Network (CBN), Angela's ministry and message is now beginning to reach women around the globe. In her book she walks readers through a 3-step process to learn about their gifts: The Inquiry (learning to listen to God), The Discovery Process (exploring your unique personality, passions, and potential) and The Application Process (applying your giftedness to what you believe God is calling you to do).
Part guidebook and part interactive journal, "Beautifully Gifted" is a scripturally based set of lessons that enable women to turn down the volume on the outside world, and hear the intimate, encouraging voice of God. "This book is a journey to the center of your heart, exploring and capturing your true essence in Him," says Dr. Angela. "It is for the woman who knows there is more to her life than she is presently experiencing, and arousing in her heart that which brings the deepest pleasure – carrying out God's divine will here on Earth."
Angela Bisignano, Ph.D. is a Los Angeles-based consultant, mentor, and mother. She
has a Ph.D. in Clinical Psychology and an M.S. in Ministry.
For additional information on this book or media requests for the author, contact Tolly Mosely http://www.prbythebook.com. Visit the author at http://www.DrAngelaBisignano.com.
This book is available at Amazon, in both paperback and Kindle, also available at http://www.DrAngelaBisignano.com. International orders can be placed through Amazon.
"Beautifully Gifted: Equipping Today's Women for the High Calling of God"
by Angela Bisignano, Ph.D.
Paperback: $14.99
Kindle: $9.99
Intermedia Publishing Group
ISBN: 978-1-935529-86-6
###