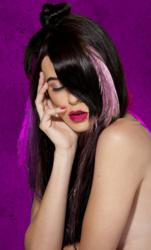 "Let's Stand Together For Life-
Not Death," says Florez, "We want to support this cause and using the death of innocent animals to do it is just wrong!"
Escondido, CA (PRWEB) September 29, 2011
Airie McCready, Founder and Creative Director of Air Feathers, wants the Beauty Industry to wake up. "Pink feathers for Breast Cancer Awareness is a great idea-but not when the feathers come from birds that are brutally murdered for only their feathers," she says.
"Many salon's and stylists don't know about this" McCready says, "and some don't even care. It's sad. The birds are killed in a horrible manner, and lies are being spread about it."
So McCready is launching her "Pink Ribbon Contest" on Friday September 30th.
The contest is free to enter, and the prizes are great for the small salon and stylist.
The only hard and fast rule is that the pink "Fairie Feathers" must be used in the photograph ("no death feathers, please!" insists McCready)-and in the Survivor Model category, the model must be just that-a breast cancer survivor.
"Let's Stand Together For Life-Not Death," says Mandy Florez, a cancer survivor herself. "We want to support this cause and using the death of innocent animals to do it is just wrong!"
Many companies such as Aveda and Eufora are starting to take notice of where the feathers are coming from-and many more are finding their way to Air Feathers, which specializes in both cruelty free no-kill feathers and synthetics for vegans and others. McCready has designed some special synthetics for her "Think Pink" month, and lowered prices on all of her items that can be used for fundraising.
The contest prizes offer the winners to be featured on the front page of http://www.airfeatherextensions.com in their slideshow for the month of November, with credits and a link to their salon. They will also recieve an individual Press Release about themselves their teams or salons.
The Catagories Include: Beauty, Fantasy Avant Garde, and Survivor Model, with a chance for single stylists, teams and salons to enter each catagory.
Any licensed stylist in any state or country can enter the contest. Registration and contest entry are free, and McCready really hopes to "ruffle some feathers" regarding the humane treatment of all animals, not just birds.
"I hope everyone passes this information on," she says, "you don't have to be a stylist to make some noise about this-almost everyone gets their hair done somewhere, and if they have rooster feathers there, please tell them the facts."
"And," she adds with a smile, "of course send them to Air Feathers!"
The Contest Page is on the website, and includes links to places where the truth about feathers is told.
Professional Website: http://www.airfeatherextensions.com
Boutique of cruelty free accessories: http://www.airfeathers.com
Contest Entry Rules: http://www.airfeatherextensions.com/our-pink-ribbon-contest.html
###