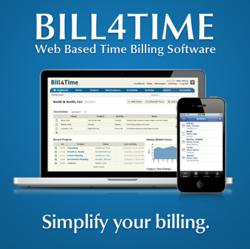 At Bill4Time, our goal is to fulfill our clients' requests ensuring our software is helping businesses be more successful.
Bellevue, Washington (PRWEB) September 29, 2011
Bill4Time today announced the release of its new interactive schedule feature – the Bill4Time Scheduler. More than a calendar, the scheduler organizes businesses by enabling entire companies to sync client appointments, deadlines, and meetings. Plus businesses can now increase efficiency by converting any schedule entry into a work/time entry with a single button making it ready for invoicing within minutes.
Bill4Time's web-based scheduling feature gives workers full access to their schedule and calendar across devices, so they can be productive in more places. Their data is stored in the cloud - not on one particular computer - so employees can connect with all of their information and get work done from anywhere with an Internet connection. Bill4Time gives users seamless access to their schedule and converts the data into a time entry with a click of a button.
New scheduler features:
· Expanded calendar
· User event invitation access
· Secured viewing features
· Multiple view feature - view events for the week, multiple weeks and print access
· Customized settings – set events to private or all day
· Scheduler events to time entry conversion
"The new scheduler is a highly anticipated feature request from Bill4Time's clients. At Bill4Time, our goal is to fulfill our clients' requests ensuring our software is helping businesses be more successful," said Jeremy Diviney, Head of Operations at Bill4Time. "The new scheduler will keep businesses organized and up to date with office on-goings and easily transfer all data into Bill4Time."
About Bill4Time
Developed with the guidance of law and consulting firms, Bill4Time is a leading web-based time billing software serving both small and large professional service firms. With offices in New York, NY; and Bellevue, WA, Bill4Time has created simple-to-use and intuitive software at a fraction of the cost of other billing systems. With strong focus on convenience, Bill4Time offers anytime, anywhere online account access, mobile apps and a desktop widget. Bill4Time's goal is to streamline the time tracking and billing aspect of business so professionals can focus more on what they do best.
At Broadway Billing Systems, we pride ourselves on our close relationships with our customers, whose direct feedback helps to shape the direction of enhancements and features. We strive to provide quality software backed by knowledgeable and responsive customer support.
For more information, please visit http://www.bill4time.com.
###