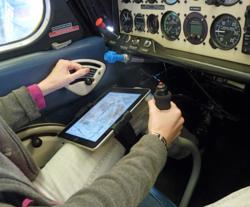 "Wow! I never thought I would be able to take my iPad on an Aerobatics flight! The MyClip really works." Judy Phelps,2011 National CFI of the Year.
Thousand Oaks, CA (PRWEB) September 30, 2011
In support of the industry wide change to paperless cockpits, TIET announced today that it has developed a product to allow operators to easily adopt the Apple iPad or iPad 2 as a replacement for all the cumbersome manuals in the pilot flight bag.
The MyClip Thigh, designed by an airline pilot, secures the iPad leaving the pilot's hands free to fly the plane. Clips attach in either portrait or landscape mode, and a leg strap positions the iPad on the thigh for one or two-handed use. While the faux suede strap can hardly be felt, the rubberized clamps on the iPad itself provide a 100% secure grip so pilots have no concern about their tablet falling or interfering with the controls. The MyClip combines strength with aesthetics so that when the flight is over the MyClip could either be instantly removed from the iPad or left in place, perhaps for a friendly debrief at the coffee shop.
"The aviation world is quickly seeing the utility of the iPad as an electronic kitbag, but the accessories out there are big and bulky and fail to take advantage of the elegance of the iPad design," said Jim Peters V.P. of Product Development. "Our product retains the beauty of Apple's design while increasing the flexibility of use — something no other product offers."
Key features of the MyClip Thigh:

Works with iPad, iPad2, Galaxy Tab and XOOM
Comfortable leg strap made of faux suede
Clips can be positioned in landscape or portrait mode
Works with the Smart Cover on iPad2
Clips hold iPad gently but firmly without sliding
Stabilizing straps allow for easy two-handed typing
Fits over most skins and some holders
Less than 2 ounces and small enough to hold in your palm
Open design keeps iPad cool in even the warmest cockpits
The MSRP for the MyClip Thigh is $39.95. The product is available at selected retailers as well as online at: http://www.tietco.com/. Now taking orders online.
TIET (pronounced "tight") is a start-up company based in Thousand Oaks California. A commercial airline pilot, who identified a need for the iPad aviation market, founded the company in 2010. Collaborating with the engineering firm Watershot Inc., TIET brings innovative design along with high quality manufacturing to produce exceptional products for the cockpit.
###