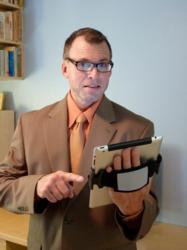 "The MyClip Palm saved me at a trade show where I had to demo my app!"
Thousand Oaks, CA (PRWEB) September 30, 2011
TIET® announced today that it is taking orders for their latest product the MyClip Palm. The MyClip Palm is the latest offering in the MyClip line, which looks at gaining function in simplest most elegant way without detracting from the beauty of the Apple® iPad™ or iPad 2.
The MyClip Palm is designed for the individual who needs to share what is on the iPad. The comfortable strap allows the user to palm their iPad like a pro. With the iPad secure to the hand, presenting ideas to a group or sharing pictures with a friend just became safer and easier. For those that have to interact with customers or clients while using the iPad, this device enables the user to focus on what is important and not on holding the tablet. This innovative product allows the iPad user to secure the tablet, freeing their hand and mind to explore the possibilities of their favorite new device.
"Most of the accessories we see for the iPad are the same old thing in a larger size; skin it, shell it, cover it. Our products retain the beauty of the Apple design while increasing the flexibility of use that no other product offers." Jim Peters V.P. of Product Development said of the MyClip line. "This product enhances the functionality of the iPad without detraction from the elegance of the Apple design."
Key features of the MyClip Palm

Comfortable neoprene hand strap
Clips can be positioned in landscape or portrait mode
Secure enough to hold the iPad in any position
Fits over most skins and some holders
The MSRP for the MyClip Palm is $34.95. The product is available at selected retailers as well as online at: http://www.tietco.com/. Now taking orders online for delivery.
TIET (pronounced "tight") is a start-up company based in Thousand Oaks California. A commercial airline pilot, who identified a need for the iPad business market, founded the company in 2010. Collaborating with the engineering firm Watershot Inc., TIET brings innovative design along with high quality manufacturing to produce exceptional products for the business user.
###