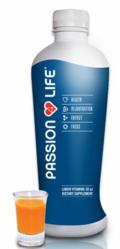 Since most Americans are deficient in Vitamin D, Passion 4 Life has upgraded our great-tasting liquid formula to include 1000 IU of Vitamin D3, says Passion 4 Life founder & creator, Charles Van Kessler.
San Diego, CA (PRWEB) September 29, 2011
Passion 4 Life, a San Diego based liquid vitamin & mineral company recently upgraded their great tasting liquid product to contain 1000 IU of Vitamin D3 per each daily ounce. Everybody is talking about Vitamin D. The truth is that most Americans are deficient in Vitamin D. Many studies show that Vitamin D supplementation can both prevent and kill many infections and diseases. A study in the January 2011 Journal of Clinical Endocrinology & Metabolism found that D3 is 87 percent more effective than D2, and is the preferred form for treating vitamin D deficiency.
In addition Passion 4 Life upgraded their Vitamin A content from 5000 IU to 10,000 IU and their Vitamin C from 500mg to 1000 mg, all to help their customers fight off the signs of premature aging. Numerous world renowned medical doctors, including Dr. Lee Cowden, MD, PhD, recently endorsed Passion 4 Life liquid vitamins stating that if they would create a liquid formula they couldn't have done it any better!
Because of its founder's tragic background and heart for children, Passion 4 Life founded and supports Passion 4 K.I.D.S., (Kids In Desperate Situations), a 501 (c) (3) non profit that works hands on with children in desperate situations and that are neglected, homeless, abused or abandoned.
###