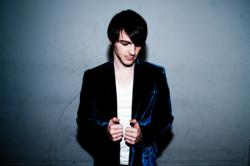 Los Angeles, CA (PRWEB) September 29, 2011
International film, television and music star Drake Bell is hitting the road at the end of October to perform five special concert dates on the east coast. Since becoming a household name in the hit Nickelodeon series "Drake and Josh", which still tops Nick's ratings in over 40 countries, Bell has evolved into a bona fide musician, with two successful albums and two #1 singles already under his belt, past tour sell-outs of 3,000-8,000 seat venues in other parts of the world, ten US and International Nick and Teen Choice Awards, and thousands of screaming fans showing up at his signings.
Bell recently released "A Reminder" (June 28, 2011), a four-song EP produced by John Fields (Rooney, Jimmy Eat World, Selena Gomez, Jonas Bros) and Bleu, with the first single and video "Terrific" released June 14.
Newport Beach CA native Drake Bell's love of music began at 12, when he won a co-starring role -- and private music lessons -- with the Who's Roger Daltrey in the film Changing Destiny. A writer as well as actor/musician, Drake's musical compositions have appeared on soundtracks for "Drake and Josh," "Victorious," "Zoey 101," "Yours, Mine and Ours " and "Superhero Movie."
Speaking on why he chose to self-release an EP this year, Bell says, "I have so much going on right now with my acting, and a full album will probably not happen until next year. I wanted to release these four tracks for my fans, they haven't had new music for a while." Bell is also trying to fit in as many live dates as his schedule will allow. "I love playing live. I will always act. But I also want to keep recording and touring, continuing to do everything I do," he said.
Bell most recently appeared in Nickelodeon's "The Fairly OddParents: Grow Up Timmy Turner" TV movie, and was recently announced at ComiCon as the voice of Peter Parker in the upcoming animated series "Ultimate Spider-Man." Past film credits include "Jack The Bull" and "High Fidelity" with John Cusack, "Jerry McGuire" with Tom Cruise, "Superhero Movie", "College," "The Nutty Professor 3D" and "Yours, Mine and Ours." Before starring in "Drake and Josh," Bell was a regular performer on Nickelodeon's "The Amanda Show" and "All That."
Tickets and VIP meet and greet packages are on sale now at DrakeBellvips.com.
Upcoming concert dates are:
Date City Venue
October 26 Danbury, CT The Streets
October 27 Boston, MA Brighton Music Hall
October 28 Allentown, PA Crocodile Rock
October 29 Poughkeepsie, NY The Chance
October 30 Philadelphia, PA The Note
Drake Bell will potentially be in the New York City area with limited availability for interviews October 17-22
MEDIA CONTACT:
Erin Friedman
SCRIVEN TALENT
323.650.4261
SHpress(at)scriventalent(dot)com
LINKS:
http://www.DrakeBellvips.com
For more about Sunderland
https://www.facebook.com/sunderlandrock
For more about Memphis High
https://www.facebook.com/MemphisHigh
###