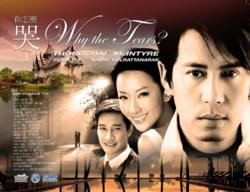 Bangkok (PRWEB) September 30, 2011
Thai superstar Thongchai "Bird" McIntyre will sing for the first time in Mandarin, rendering a soft, romantic melody in a music video set against the backdrop of some of Thailand's most appealing and iconic tourism attractions.
The music video will be broadcast in China, Taiwan, Hong Kong, Malaysia and Singapore, which are some of Thailand's fastest growing visitor arrival markets (see chart below).
Mr Suraphon Svetasreni, TAT Governor said, "Music is a universal language, understood by everyone. This new strategy helps us to use the power of both music as well as our popular celebrities to underscore the brand image of Thailand and the strength of our marketing slogan, "Amazing Thailand: Always Amazes You.
"This special music video will communicate a powerful and memorable message in a completely new way to our target group of Chinese visitors, which are important in terms of both numbers as well as spending power.
In addition to the five source markets in the Asia-Pacific, the video will also be broadcast in the China town districts of cities in Europe and Australia.
The TAT will seek to convert interest into bookings by offering special prizes of 3 days 2 nights tour packages to potential travellers who sign up for the marketing promotional offers before December 2011.
The 3-minute music video "Rong Hai Tham Mai" (Why do I cry?) will feature Mr Thongchai and Ms Sonia Sui, a well-known actress, singer and model in Taiwan and another well-known Thai performer Mr Nawat "Pong" Kulrattanarak, who now commands a large Chinese fan following.
The music video is directed by Mr Ekachai Uekrongtham, a rapidly-rising Thai film-maker.
The narrative tells the tale of a Thai tour guide who meets up with a Chinese girl on his tour around Thailand. Their journey takes them to famous tourist attractions in Thailand such as Hua Hin Beach, Kao Tao Beach, Bung Bua National Study Centre in Prachuap Khiri Khan province, Khao Wang in Phetchaburi province, the Grand Palace and the Temple of the Emerald Buddha, Chatuchak Weekend Market, Giant Swing, Yaowarat (China Town), the Golden Mount in Wat Saket, and other popular sites around Bangkok.
Both of them share some memorable times with each other throughout the trip, until the tour comes to an end. How will this love story end? The climax to this love story is the draw card that is expected to keep viewers riveted until the end, and send the bookings to Thailand soaring.
Mr Suraphon said, "We think this video will pull at the heart-strings of potential visitors across all age groups. If it proves successful, we will replicate this strategy in other markets."
Visitor arrivals to Thailand by nationality from the target source markets
China - in 2010 1,122,21 visitors = +44.34% change/ in 2011 1,155,712 visitors = +68.59% change
Hong Kong - in 2010 316,476 visitors = -0.72% change/ in 2011 253,256 visitors = +42.56% change
Malaysia - in 2010 2,058,956 visitors = +17.13% change/ in 2011 1,385,042 visitors = +21.91% change
Taiwan - in 2010 369,220 visitors = +1.77% change/ in 2011 302,628 visitors = +41.73% change
Singapore - in 2010 603,538 visitors = +7.09% change/ in 2011 391,923 visitors = +23.39% change
Source: Immigration Bureau, Thailand
Visit this link for the Music Video: http://www.youtube.com/watch?v=GINEWGka-4M&feature=related (Chinese Subtitle)
Contact Information:
International advertising support section
Tourism Authority of Thailand
Tel: +66 (0) 2250 5500 ext. 1521-4
Fax: +66 (0) 250 0245
E-mail: advertising_tat(at)hotmail(dot)com
International Public Relations Division
Tourism Authority of Thailand
Tel: +66 (0) 2250 5500 ext. 4545-48
Fax: +66 (0) 2253 7419
E-mail: prdiv3(at)tat(dot)or(dot)th
Web site: http://www.tatnews.org
###