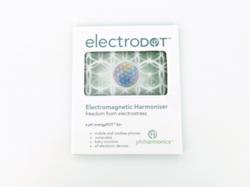 "We believe that the electroDOT is a breakthrough product. It is a truly cost effective way to relieve 'electro-stress' and get the most out of your day."
(PRWEB UK) 30 September 2011
Phi harmonics today launched its new look iridescent electroDOT. The electroDOT is a class 1 medical device and scientific research studies show that it protects against the potentially harmful effects of the electromagnetic frequencies (EMFs) emitted when we use electronic devices such as mobile phones, computers, cordless phones.
Scientists around the world are increasingly concerned about these dangers and at the end of May 2011 the cancer research agency of the World Health Organisation reported that mobile phones are "possibly carcinogenic".
Christopher Wild, director of the International Agency for Research On Cancer, concluded that, "Given the potential consequences for public health of the classification and findings it is important that additional research be conducted into the long term, heavy use of mobile phones". He went on to advise, "It is important to take pragmatic measures to reduce exposure". The electroDOT is like an energy supplement and is a "pragmatic measure".
It is a 17mm wafer thin shiny magnetic disk which holds a vibrational energy signature. The principle is similar to that used in homeopathic medicine where an energy signature is stored in a solid substance. Either inserted into or easily attached to the outside surface of a mobile phone, the electroDOT helps relieve toxic effects while at the same time restoring natural energy.
In live blood microscopy tests, red blood cells reacted negatively to exposure to mobile phones. When an electroDOT was placed on the mobile phones the cells responded positively and the symptoms were relieved.
In another research study, scientists at the Centre for Biofield Sciences used three energy field scanning methods to assess the effects of mobile phone use both with and without an electroDOT. The research concluded that the electroDOT is a very powerful means of neutralizing the negative effects of the electro-magnetic radiation from mobile phones.
The electroDOT is the result of ten years research and development by Phi harmonics Ltd. Charles Caudle, Director points out that, "Although this can help anyone using a mobile phone, one of our major goals is to offer protection to the 'passive smokers' in all of this - our children."
Marketing Director Lucy Blyth commented, "We believe that the electroDOT is a breakthrough product. It is a truly cost effective way to beat the EMF blues and get the most out of your day."
To help increase public awareness of the issue and the help available, Phi harmonics would like to run reader offers for appropriate publications.
###