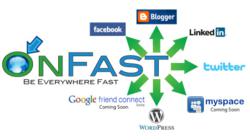 We are honored to receive an Excellence in Industry Award from the Collier EDC.
Naples, FL (PRWEB) September 29, 2011
OnFast along with eight other local businesses were awarded Excellence in Industry Awards by the Collier County Economic Development Council at a luncheon held at the Naples Hilton. The awards recognize innovative local industry leaders and entrepreneurs.
"We are honored to receive an Excellence in Industry Award from the Collier EDC. OnFast's products were built for local start-ups and small businesses who need ways to effectively market themselves without breaking the bank," said OnFast president, Christopher Shepherd.
OnFast is accessible world wide via a web browser or mobile device at http://www.onfast.com. OnFast offers its innovative social media tools as an affordable flat-fee monthly subscription, with no contracts, no per-coupon charges, and a no-risk 30-day free trial.
Founded in 2010 by serial Internet and travel technology entrepreneur Aaron Shepherd, OnFast is a cloud-based software as a service (SAAS) provider for the online coupon and social network marketing space. OnFast's management team brings more than 30 years of experience in the software and Internet industries to provide customers with innovative and effective technologies. OnFast is headquartered in Naples, on Southwest Florida's Gulf Coast. OnFast customers can learn more and sign up for the service at http://www.onfast.com.
For more information contact Christopher Shepherd christopher(dot)shepherd(at)onfast(dot)com at 866-MYONFAST (866.696.6327). Follow us on Twitter: @OnFast. Connect with us on Facebook: http://www.facebook.com/onfast. Check out our blogs at http://blog.onfast.com and http://tech.onfast.com.
OnFast is a registered trademark and other OnFast product names, service names, slogans or logos referenced in this document are registered trademarks of OnFast, LLC. All other company, product or service names referenced in this website are used for identification purposes only and may be trademarks of their respective owners.
# # #