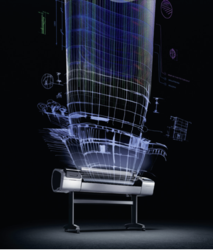 This is huge" says John Lorusso. "How this gets used in a collaborative project environment is almost beyond our ability to speculate. It truly is limited only by your imagination, and it's going to change how you work with your global team.
Boston, MA (PRWEB) September 29, 2011
With the release of the HP Designjet T2300 PostScript eMultifunction Printer, a new model of workplace collaboration takes shape. Parrot Digigraphic leads the way in helping Architects, Contractors, Planners and other technical professionals collaborate in an entirely new way, catapulting productivity and creativity to new heights.
Very few new products can claim to profoundly change the way people work, and think about work, but John Lorusso at Parrot Digigraphic Ltd. believes the HP T2300 eMFP is going to do just that. "It's really a simple concept. We're all used to the convenience of "MFP" machines in our office workflow, with the ability to print, scan and email documents from one workhorse laser printer. Somebody at HP had the brainchild to apply this basic technology to wide-format printing and scanning. It's not new technology, it's a way of combining existing technology to create, print, share and manage collaboration."
It's now possible to have one machine that will print up to 44" wide from either a workstation or a USB drive plugged into its console… that same machine can scan and copy documents up to 36" wide.
Here's the interesting part. The T2300 can both upload, and download, images and scans to the HP ePrint and Share "cloud". This is a free, collaborative subscription service offered by HP for any partners who need to have secure access to files. For more information see the ePrint and Share site, here: https://h30510.www3.hp.com/public/features
"This is huge," says Lorusso. "How this gets used in a collaborative project environment is almost beyond our ability to speculate. It truly is limited only by your imagination, and it's going to change how you work with your global team. Parrot Digigraphic is one of the few industry leaders who can help clients design, budget and best implement this remarkable new technology."
How does this work? Here's a simple example. A firm is working on a building project with teams all over the world. The client is in New York, the architect is based in Boston. The building site is in London, and there are several architects from the West Coast and Europe contributing to the effort.
Starting with the historical blueprints of the site, they are scanned and posted to the ePrint and Share cloud where everyone can download and review them as PDF format files. If they have wide-format printing capabilities they can output their own copies. They can be re-rendered as CAD files or drawings, and re-loaded to the ePrint and Share cloud, where they can be reviewed by the entire team. Here's where it gets interesting.
People still like to mark up paper.
The first generation drawings can be marked up in meetings or by key people, and simply scanned and uploaded, then downloaded anywhere and reviewed, much like a contract can be annotated and then re-sent by a law firm. Any partner in the process can print, markup, scan and upload any documents required for the collaboration, if they have the HP T2300 eMFP. If they don't, at the very least they can follow along by reviewing the PDF files from the ePrint and Share cloud.
A project manager on the road about to give a key presentation of the latest changes, for example, can load the documents on a USB jump drive and, plugging them in to the nearest T2300 eMFP they can print them out at the push of a button, with no workstation, no drivers to load.
To coin a phrase… this changes everything.
With their foundation in wide-format digital imaging, high-quality capture and output, color management and digital asset management, Parrot Digigraphic is unique among Hewlett Packard Technical Graphics vendors with the specialized skills to help Architects, Contractors, Planners and others make the jump to the next level of creative tools- "Cloud"-based collaboration of large documents.
About Parrot Digigraphic, Ltd.
Parrot Digigraphic Ltd. serves the complete needs of digital fine art and photographic printmakers with hardware for image acquisition, management and output; color management software; integration and support services; as well as a complete line of paper and inks suited to very demanding criteria. Founded in 1996, this privately held company numbers among its customers some of the world's most prestigious digital fine art printers and photographers, artists and galleries.
Follow Us On Twitter
Contact information:
John Lorusso, President
Parrot Digigraphic, Ltd.
info(at)parrotcolor(dot)com
877-727-7682
Parrot Digigraphic, Ltd.
630 Boston Road
Billerica, MA. 01821
###