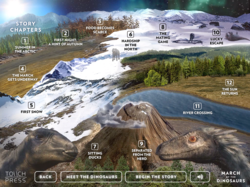 London (PRWEB) September 29, 2011
Touch Press, in partnership with National Geographic Channel and Wide Eyed Entertainment, is proud to announce its new March of the Dinosaurs App for iPad is now available on the App Store. This richly interactive storybook recounts the adventures of a group of dinosaurs as they struggle to survive in the prehistoric Arctic. Carefully based on recent scientific discoveries, superbly realistic 3D animations bring the dinosaurs alive in your hands, spinning 360 degrees at the swipe of your finger. This magical book will fire the imagination of any dinosaur fan.
Features include:

Ten fully 3D interactive rotating dinosaurs;
Sixty beautifully illustrated story pages with animated chapter transitions;
Optional story narration by Dr Who actor Kerry Shale with automatic text highlighting;
Twenty integrated animation sequences showing the dinosaurs in their Arctic habitat;
Scientific fact files for all dinosaur species;
Live link to additional Wolfram|Alpha data on the dinosaurs (internet connection required)
The March of the Dinosaurs App is based on the National Geographic Channel film Escape of the Dinosaurs, and designed and produced by Touch Press.
The March of the Dinosaurs App is available for $7.99 (£5.49 in the UK) from the App Store on iPad or at http://www.itunes.com/appstore/
###