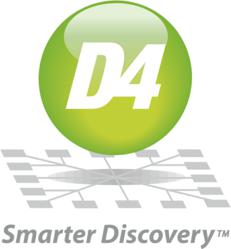 D4 has mastered 21st century technology, helping law firms and corporations manage and compile data during litigation. We are grateful they have invested in Rochester and we wish them the greatest success
Rochester, NY (PRWEB) September 29, 2011
D4, LLC, a leading provider of eDiscovery, Computer Forensics and Litigation Support Services for Law Firms and Corporations, announced today that they celebrated their move to 222 Andrews Street in Rochester with an official Ribbon Cutting. Several dignitaries were in attendance including US Congresswoman Louise Slaughter, Rochester Mayor Tom Richards, Monroe County Executive Maggie Brooks, City Neighborhood and Business Development Commissioner Carlos Carballada, along with other special invited guests and D4 employees.
"Rochester's economy continues to be driven by knowledge and innovation," said Mayor Richards. "D4 has mastered 21st century technology, helping law firms and corporations manage and compile data during litigation. We are grateful they have invested in Rochester and we wish them the greatest success."
John Holland, D4's CEO and Founder said "D4 is very excited to be part of the revitalization of downtown Rochester. As the company grew, we knew we needed more space and the downtown area made perfect sense. The city location brings us much closer to our local customers and our customers in the surrounding counties." D4 landed on the Rochester Top 100 list in 2010 and just recently made Inc. Magazine's INC.500/5000 list of the fastest growing privately held companies in America.
"Imagine all the teenagers watching law dramas on TV thinking to themselves, 'one day I'd like to work with technology like that', well thanks to D4, it's possible for them to do that and stay in Rochester. For that we are all very grateful," said Congresswoman Louise Slaughter (NY-28). "They've taken an old necktie factory and gave it a new high-tech purpose, doing absolutely incredible work, bringing their workforce and needed vitality into downtown Rochester. This is truly a great day and I'm pleased to be a part of it."
D4 invested 1.6 million dollars in the renovation of the building and installation of a high security Data Center with assistance from a number of state and local agencies. The City of Rochester provided funding through the Neighborhood and Business Development Financial Assistance Program. Monroe County provided construction incentives through COMIDA. RGE provided a grant from the capital investment incentive program for electric infrastructure improvements. NYSERDA provided energy rebates and Empire State Economic Development Corporation provided incentive funding.
The building, built in the 1940's, was originally the headquarters for Superba Cravats, a local tie manufacturer. In the late 19th and early 20th centuries, Andrews Street was known as the "hub" of Rochester's clothing industry. John Holland stated, "We wanted to maintain as much of the original architecture as possible, while creating a state-of-the-art and energy-efficient work space for our employees." Martha MacPherson, D4's Director of Marketing added, "The buildings solid architecture was very conducive to the installation of our new high-security, Tier 3 data center".
The move allows for continued growth and expansion for D4, as the company plans to hire additional employees this year and into 2012. D4 has 8 offices around the country and is looking to add additional locations in 2012.
D4, LLC is national leader in litigation support and e-Discovery services to law firms and corporate law departments. D4 covers the spectrum of the Electronic Discovery Reference Model (EDRM), from identification and preservation of data through forensic and targeted onsite data collection; from data analytics and defensible search methodology through hosted review and production. D4 assists attorneys in litigation response planning, strategies for negotiation of scope and meet-and-confer, computer forensics, expert testimony and cost reduction practices in litigation support projects. D4 was one of the first companies to introduce an eDiscovery Managed Service Solution, called eNtrust.
Founded in 1997 and through its combination and rebranding with Doculegal, D4 has grown to a national presence. With over 100 employees, D4 has offices in Rochester, Buffalo, Tampa, Lincoln, Omaha, New York City, Grand Rapids, San Jose, San Diego, San Francisco, Denver, Washington DC and Providence, RI. State-of-the-art data center operations in Rochester are complemented by electronic discovery and litigation support paper document services throughout the United States. In 2010, D4 was recognized in the "Top Five" of the "Rochester Top 100", honoring the fastest growing companies in Western New York. D4 has recently landed on Inc. Magazines INC.500/5000 list of the fastest growing private companies in America. For more information contact D4 at marketing(at)d4discovery(dot)com or visit http://www.d4discovery.com/.
###