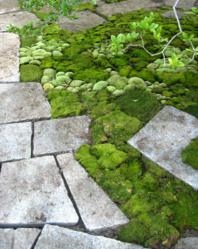 Your moss has been wildly successful and looks absolutely great. We tell everyone about you, and look forward to using your products a lot more in the future."

Carol Franklin – Andropogon Associates, Philadelphia
Honesdale, Pennsylvania (PRWEB) September 30, 2011
According to the folks at Moss Acres, moss has been around for 350 million years - it is believed to have "crept" out of the oceans and slowly evolved traits that adapted it for life on land. But moss had no lofty ambitions, it has changed little over time, and remains one of the simplest of plants. Moss plants have no true roots and simply absorb all the moisture and nutrients they require directly from the air and rain. This is why moss thrives in damp environments - it can only photosynthesize and spread when it is hydrated. As soon as moss dries out it goes dormant, awaiting the next rain. This is how Moss Acres is able to store moss - dry, so it won't mold and it also has an unlimited shelf life.
Moss Acres was started on a whim twelve years ago by Al Benner, whose father Dave has been nurturing moss gardens for close to fifty years in Bucks County, PA. As an avid outdoorsman, Al decided he wanted a way to spend more time in the mountains of Northeastern Pennsylvania. He also figured since nobody was offering moss for landscaping in large quantities he could fill that niche, so he decided to purchase an old house with acreage in Wayne county. One of the greatest features of the property are the nearby falls. A short walk into the woods, one finds themself staring at an enchanting series of cascading waterfalls bordered by rocky outcroppings covered in moss, ferns and wildflowers. The soothing feeling here reminds us all of how it is often the simplest things that give us the most pleasure.
The house has since been restored and Moss Acres has expanded to the point where it is now located at a separate location down the road. Al is now also turning his attention to creating an organic farm for his twin five year old boys on the property. Business and lifestyle have a pattern of co-mingling for this entrepreneur.
Moss Acres had very humble beginnings, and by most any business standards would still be considered a small company. But even in the recent economic downturn, the company continues to show respectable annual sales growth and has even recently launched two new moss products for retail garden centers, gift shops and online gift merchants. The "Moss Milkshake" and the "Live Moss Garden Pack" are selling very well nationwide for many retailers and are also helping to create more public awareness regarding all the environmental benefits of moss. These include: no mowing, no fertilizing or chemicals, and no watering once established.
Many new products and applications are in development at Moss Acres, including a moss mat system that can be attached to walls, ground moss fragments for shady area green roofs (a handful of these have been successfully installed), and topiary systems for creating unique and artistic shapes covered in moss. Moss for terrariums is also a big seller. Moss Acres currently offers five varieties of shade-loving mosses in large quantities, and is also experimenting with sun-loving mosses for clients with sunnier conditions.
The Japanese have known for centuries, what we Westerners are just now beginning to realize: Moss is an incredibly valuable plant when it comes to soothing the senses and cleansing the air and water. Why fight nature, trying to establish a grass lawn in the shade? Work with it and grow moss instead.
For more information about moss, visit: http://www.MossAcres.com
###