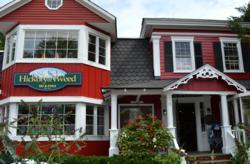 Armonk, NY (PRWEB) September 29, 2011
Since 1961, Hickory & Tweed has catered to the ski, snowboard, cycle and outdoor fashion needs of the tri-state area. Now celebrating its 50th anniversary, the shop continues to grow and receive praise from the generations of customers it serves. Families as far away as Boston and Philadelphia travel to the shop year after year for a one-of-a-kind shopping experience.
Hickory & Tweed has received numerous industry awards throughout the past five decades, including the honor of being named the National Ski Shop of the Year in 2005 by Ski Magazine and a "Gold Medal Ski Shop" every year from 2004 through 2009. Skiing Magazine recognized the shop as one of 37 "Expert Ski Shops" in the country. Westchester Magazine also named Hickory & Tweed as "Best Ski Shop" and "Best Bike Shop" in Westchester County.
"It doesn't seem possible that Hickory & Tweed is fifty years old," says Skip Beitzel, the shop's owner. "This store really is like a big family. A lot of that is because of our family ski and snowboard leasing programs, initiated by founder Jimmy Ross back in the '70s. We are extremely fortunate and thankful to the generations of loyal customers and staff that we've had the pleasure to work with over the years."
"We sell products we love, products we've sold for 50 years and continue to be passionate about today," explained Beitzel. "Walk in our front door and you know we are different; look around. Our store even smells different – think of a whiff of hot ski wax and leather mixed in with a hint of cedar." Jimmy Ross hired Skip Beitzel to work in the shop as a teen in high school and while attending the University of Vermont. After grad school and after pursuing an advertising career with Young & Rubicam, Beitzel went on to purchase Hickory & Tweed from Ross in 1986. Skip's wife, Michaela Beitzel, is a part of the business as well, and has been head fashion buyer for the store for twenty-five years after working with the Trump Organization after college.
Outside of Hickory & Tweed, Beitzel's efforts in the community extend to the Boys & Girls Club of Northern Westchester, where he is a longtime board member and past president. He and his wife, Michaela, were honored in 2004 with the Club's "Humanitarian Award," the highest honor given by the Club to its supporters. Beitzel was also named Outstanding Citizen of 2007 by the Armonk Rotary Club and has served on the board of the Rippowam-Cisqua School in Bedford, and the President's Advisory Council of Northern Westchester Hospital Center.
Hickory & Tweed is located at 410 Main Street in Armonk, NY. Follow Hickory & Tweed on Facebook for the most up-to-date news and to be the first to hear about new products: http://www.facebook.com/HickoryandTweed.
About Hickory & Tweed
Established in 1961, Hickory & Tweed (http://www.hickoryandtweed.com) specializes in ski, snowboard and bicycle equipment, as well as award-winning fall and winter outdoor fashions. The shop offers rentals, repairs and equipment servicing to members of the Westchester Community and tri-state area.
Press Contact:
James Melnichok
Co-Communications
914-666-0066
james(at)cocommunications(dot)com
###