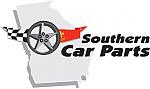 CarShowFinder.Org is our way of helping to support the auto enthusiast and the hobby we all love.
Atlanta, GA (PRWEB) September 29, 2011
Southern Car Parts, a leading discount Corvette parts retailer has launched a new site to assist auto enthusiasts with promoting and finding car shows in their area. Auto events and car shows have always been a favorite pastime of auto enthusiasts for some weekend fun but locating where they are at can always be a challenge. Similarly, promoting your car shows and auto events can also be an expensive and daunting task, as getting the word out to interested parties in the local region and can expensive and difficult. The Southern Car Parts solution is http://www.carshowfinder.org, a totally free dynamic up to date database of car shows and auto events. The site is free for everyone. promoters and to people just looking to find local car shows.
For promoters, it is a simple as creating an account with your email address and then you are able to add, edit, and delete one or multiple car shows that are tied to your account. You can only edit the shows that you create. The site is very easy to use and navigate. You can create multiple instances of the same car show on different dates. The site gives you the ability to provide Google Maps directions to your show and list all the details of the event. Once your show or event is loaded, it is visible for all to see and search. By simply clicking any state a user chooses, the site will show all car shows and auto events for that given state. CarShowFinder.Org ranks very well within all the major search engines so your events will get immediate local and national exposure, all at no cost.
For people simply looking to find local auto events in your area, use the map and click on the state that you are looking for events in. The site will list all the events and shows coming up in the next 60 days along with past events. Users can also use the advanced search functions and search by event name, city, zip code, or just about any other variable someone could think of.
If you promote or attend car shows and auto events, take a look at CarShowFinder.Org. A simple, easy, and free way to make promoting and finding car shows on the web a cinch.
###