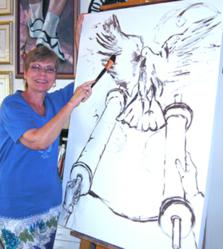 Castle Rock, Colorado (PRWEB) September 30, 2011
Christian art of Candis Kloverstrom finds its roots in Israel. Visiting Israel meant for eleven days she ran where Jesus walked taking routes and places Jesus traveled during His three year ministry. Where His ministry was one of reconciling the world back to God, the Bible states in Matthew 10:34 Jesus did not come to bring peace but a sword. She states, "That sword is not the kind one might think, but the word of God."
The Bible shows in the Gospels that Jesus collided with Jewish leaders of His day. JP Miller talks about how the 'Judeo-Christian' term is used by many today that links the Christian Faith to Judaism. But she explains to talk about Christianity as connected to Judaism by using the term Judeo-Christian is a fallacy.
Here is why. Kloverstrom states, "In John 15:1 Jesus specifically says He is the true vine, and His Father is the vinedresser. The Christian faith is connected through Jesus Christ, not through Judaism. Now Paul the Apostle talks about how believers in Jesus Christ, specifically Gentile believers, were grafted into the vine. But, Jesus was clear that He was the true vine".
"The Jewish community is content to allow Christians to believe there is such a thing as a Judeo-Christian tradition, because it can be useful in the area of Jewish-Gentile relationships." Moshe Rosen stated in an article for The Jew for Jesus Newsletter.
He went on the say that in the final analysis, most rabbis would insist there is no such thing as a Judeo-Christian tradition. There is a separate Jewish tradition and a separate Christian tradition.
"But, that does not take away God's election for His people.," states Kloverstrom, "The Apostle Paul also was very clear God still loves His people and some day He will take away the blinders. The Bible states God still has His hand on His people. And there are many through the decades that had an opposing thought. Persevering through incredible turmoil; one only has to visit the Holocaust Museum to understand the atrocities."
Christian Tradition
Kloverstrom saw many religious beliefs in the Holy Land. Those beliefs went from a total denial of Jesus to various shades of who Jesus is. She states, "Being caught up in the trappings of today could be easy. It is up to the individual to find that personal relationship that makes the reality of Jesus in their life valid."
In her recent trip to Israel Kloverstrom realizes, "The Bible is clear Christian tradition comes from connecting to Jesus as the true vine. God's plan included the Jewish people. The conflict has always has been between good and evil where God is reaching out to fallen mankind. He had a plan and called out a people for Himself. His plan was to use those people to reach the world."
Kloverstrom also saw that going to the Holy Land is connecting to the humanity of Jesus. The Gospels show as fully God and fully man, Jesus came to connect to fallen mankind. He suffered the same sleep deprivation as man when He stayed up late. At times He was frustrated with His disciples' dumb comments and went through incredible turmoil in the Garden of Gethsemane. Because He was tempted as man He understands human conflict, Hebrews 4:12 .
Christian Art of Candis Kloverstrom
As a result of her pilgrimage, Candis Kloverstrom has begun a new painting. It depicts the trinity where God the Father is holding a scroll with His hands. Jesus is that word made flesh; through Jesus man is filled with God's Spirit.
Joyce Meyer states, "What makes you a 'Christ-ian' is to receive Him into your heart, and literally when you ask Jesus to be your lord and Savior, He comes alive in you and you become pregnant, so to speak, in your spirit with everything that God is and then you begin to work that out and walk that out in your life."
I Corinthians 2:14 states that the Word of God is Spiritual and only through the Holy Spirit is the Word of God discerned. Jesus in John 4 described that through relationship with Him people receive the kind of living water that ignites their lives.
Company Information
Candis Kloverstrom opened Artistic Impact Publishing, LLC eleven years ago. "Denver Men in the Kitchen," is a community book published by Artistic Impact Publishing, LLC that highlighted the successful Denver man such as governor John Hickenlooper, Denver Business Journal president, Scott Bemis, and anchorman Dom Testa to name a few. Candis Kloverstrom illustrated, designed, and interviewed each man creating a slice of what makes Denver, Colorado great. She has been involved with design, illustration, and brand development for the past twenty years. She now develops Christian Art, blogs, and information to inspire and promote Jesus.
###