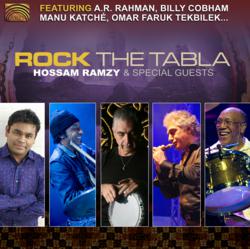 "...well it just doesn't get any better than this. Rock The Tabla is crazy good!"
Sussex, UK (PRWEB) September 30, 2011
As Hossam Ramzy's 'Rock The Tabla', an album of high-profile collaborations, continues to receive critical praise and to climb the world music charts, it is worthy of looking at its success, both in itself and as an assessment of the art of collaboration.
Collaborations, almost by their nature, can be very hit-and-miss affairs; all too often we see collaborations between stars of music that fail to reach the heights of their respective talents.
Egyptian percussionist Hossam Ramzy, however, seems to have it mastered. Through his work with some of the luminaries of pop, rock, jazz, world music and more, from Led Zeppelin to Khaled, Hossam seems to have found the key to creating a seamless fusion of styles. His ability to take totally different styles of music and make them sound like they belong together is what makes him so sought after as a collaborator. So what is his secret?
"When I work with other artists I look for what I love most about what they are doing, and I do my best to enhance this. It makes it more exciting for me and makes me more interested in the music. Then, I find what it is I can choose from my own soul and give it to them. Sparing nothing."
Of course, an innate understanding of music and rhythms is necessary, as well as the desire to learn from one's partner, and an ability to check one's ego at the door.
In the case of Rock The Tabla, it also helps that this was an organic process which was allowed to evolve over a period of years, and was not forced together for the sake of having 'this name' or 'that name' on the album.
The album's opener, 'Arabantana' draws you in with its "flamenco and Carlos Santana-style electric guitars introducing the theme before Egyptian strings come in against Ramzy's Arabic percussion and Manu Katché's drum kit" (Perceptive Travel).
'Cairo to India' with A.R. Rahman, whose other collaborative project SuperHeavy (including Mick Jagger, Joss Stone, Dave Stewart and Damian Marley) is currently flying high in the mainstream and alternative charts, "is an exciting amalgam of wordless Indian singing and boiling percussion" (elsewhere.co.nz) which "brings two countries together quite naturally" (Allmusic).
Two tracks with drumming legend Billy Cobham shine, with the jazz inflected 'Six Teens', and Cobham's take on belly dance rhythms in 'Billy Dancing' (what else?).
The two percussion duets, courtesy of Japan's Joji Hirota and Mali's Nahini Doumbia stand out, while the title track, Rock The Tabla, with its "incendiary guitar licks and Omar Faruk Tekbilek on mizmar" (World Music Central), is "one of the best pieces of Arab rock to ever come out of a pair of speakers" (Allmusic).
Perhaps the whole project is best summarized by TJ Nelson of World Music Central: "...well it just doesn't get any better than this. Rock The Tabla is crazy good!"
ARC Music is celebrating 35 years of dedication to world music. Established in 1976 to preserve the ethnic music of different world cultures, and to spread traditional and original music with a positive message, the label now offers the largest selection of traditional and contemporary ethnic music from all corners of the world. Their unrivaled repertoire consists of over 700 products from over 120 countries and cultures the world-over.
###