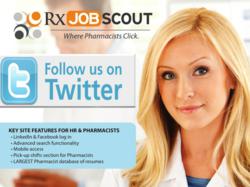 Winter Park, FL (PRWEB) September 29, 2011
Rx Job Scout today announces the official launch of its "Turnkey Social Marketing Initiative." Built to provide employers a one-stop approach to include "social media" in the marketing of their job posts, this cohesive approach will greatly impact how healthcare recruiters seek out qualified candidates.
The "Turnkey Social Marketing Initiative" will include job and company info postings on Rx Job Scout's Twitter feed, company Facebook page, and LinkedIn Company page.
"We know that our candidates are all over social media," says Melissa Bridge, Senior Marketing Manager for Rx Job Scout. "It only makes sense that we offer a comprehensive 'social marketing' package to our customers that leverages these technologies."
The uniqueness of this initiative for this industry lies in the meticulous integration of the social media marketing pieces into the core of the operation of RxJobScout.com. Every job post is tweeted. Every featured company is written about across multiple platforms. "It's the way we designed our system to work," says Managing Partner, Nayte Carrick. "Social Media has to be integrated; it doesn't work as an 'add on.'"
The fast approaching launch of RxJobScout.com and the debut into social media is scheduled for October 3, 2011. Team members at Rx Job Scout continue to increase awareness for the site and manage new subscribers that want to gain exposure for their jobs in Pharmacy.
Rx Job Scout is an industry leading job board designed specifically for Licensed Pharmacist employers and job seekers. The site integrates relevant current relationships such as Facebook account authentication and LinkedIn profile importing to improve the user experience. RxJobScout.com also features the most robust site search engine of any pharmacist job board on the market.
"Like" us on Facebook, "Connect" with us on "LinkedIn" and "Follow" us on Twitter.
###