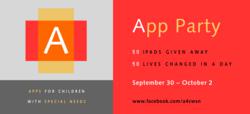 If a child can't learn the way we teach, maybe we should teach the way they learn
Oxford, CT (PRWEB) September 29, 2011
In January 2011, Gary James, the father of 6 children, 2 with Special Needs, decided to set up a web-site to help other parents like him who were interested in using the Apple iPad as an educational and development tool for children with special needs (a4cwsn.com). The site shows videos of Apps developed or suitable for special needs children being demonstrated so that the community of parents, educators and professionals get the opportunity to see an app in action before parting with their money. The iPad's interactive interface is an ideal device for those with communication difficulties and in refining fine motor skills.
In less than 8 months, a4cwsn has become a phenomenon in the world of special needs with almost 6,000 followers on facebook, and through his unique concept of App Parties, which bring developers and the special needs community together, has created a social network and now a charity in which the Developers and the special needs community not only support each other, but raise tens of thousands of dollars to fund iPads for parents who could otherwise not afford them.
Gary will host his third App party from September 30th - October 2nd, and will once again bring Developers and the special needs community together in an event that will raise thousands of more dollars to support a4cwsn.com's campaign that is already close to reaching its goal of giving an iPad to a child with special needs in each of 50 States. "This will not only help 50 deserving families, but raise awareness about the use of this technology as a key tool in improving the education, communication and motor skills of children with special needs" James said from his home in Oxford,
Connecticut.
Some of the developers and companies donating to the Campaign and participating in this event are.
123 Number Fun Party Ltd, 404 Software, Aardwearing Software, Ablenet, Acceptional, App Books, App in a Box, AppGrade, Artgig Studio, Auryn Inc., Autism Classroom, Autometric Apps, Big Grips, BinaryLabs, Blue Quoll, Brain Integration, Brain Parade, Busy Bee Studios, Callaway Digital Arts, Cambridge, English Online Ltd's Apps, Close to Home Apps, Daley & Co, Dash & Ditto's Playground, Dr Mark Bowers, Enabled Games, eReading books, Extra Smart Apps, Extra Special Kids, Foundations Development House, Gateway Black Inc, Generator Learning, Giggle Up Pty Ltd, Go Go Mongo, Good Karma Applications, Grembe, Grids Interactive, Griffin Technology, Gundrop Cases, Handhold Adaptive, iBallz, ICON LLC, idevbooks, iMagine Machine, iModeling, Jelly Biscuit, Jellybean Tunes, Jungle Education, Kelly Jarris, Kidimedia, Kidoodle Apps, Kiwa, Lantelligence, Learning Touch, Lil' Hoot Owl, Lillie's Pad, Little Bit Studio, Loud Crow Interactive Inc., Magine Machine, Marware, Mighty Kingdom, Mindshapes, Mobile Education Store, Moving Into Writing, Moving Tales, MugTuk, Nannek, Nigel Green's Apps, Nosy Crow, OceanHouse Media, Over The Moon Stories, Oz Apps, PicPocket Books, Project Injini Child Development Games, Punflay, Red Piston, Reks, Ruckus Media, See Here Studios LLC, Silverkite, Software Smoothie, Sosh, Spaceboards, Speak in Motion, Splash Math, Study Pad, Super Duper Apps, Tactus Therapy Solutions, Tenlin Studios LLC, The Binary Family, The Conover Company, Think Legend, Timagine, Tizio BV, TouchyBooks, Tridentcase, Treasure Kai, Wasabi, WeAreFaces, Ximad, zbobapps, ZincRoe , ZooGue
Notes to Editors:
1. The a4cwsn.com community has been in existence for about 9 months, and it's associated facebook page enables parents, educators and professionals to communicate with each other about any and all types of issues concerning their children and Special Needs.
2. The Community is built around the interest in using Apps as an educational, communication and developmental device for children with special needs, and a4cwsn.com has created a forum on facebook, in which the community and the App developers directly share ideas and exchange views about Apps and support each other in bringing valued products to market, driven by consumers.
3. a4cwsn.com has grown very rapidly in the past 8 months with now almost 6,000 followers on Facebook from all over the world, especially the USA, Canada, Australia and the UK.
4. The a4cwsn.com web-site contains over 500 videos done by James that demonstrate Apps for Children with Special Needs and also educational Apps in action. Each App is reviewed on video to help the parents, educators and professionals decide if the app is right for them before they purchase it.
5. The a4cwsn.com website has had over 1 million hits, and the associated in excess of 15 million posts shared in its short existence.
6. Each of the 50 iPad 2's that James will personally deliver by hand are loaded with Apps donated by Developers and valued at over $1500
7. Sponsors or donors wishing to support the work of a4cwsn.com and its new charity are invited to contact Gary James via Gary(at)a4cwsn(dot)com
8. Gary on ABC NEWS
###