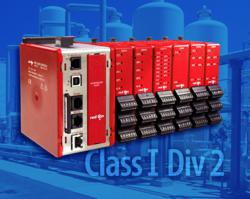 "Companies working in hazardous environments can now safely integrate multi-zone PID control, data acquisition and I/O into their industrial control systems, while also adding advanced remote asset management and control features to their process."
York, PA (PRWEB) September 30, 2011
Red Lion Controls, Inc. announces their Modular Controller series has been approved for use in Class 1, Division 2 hazardous locations, allowing the product to function in places where explosive gases, vapors and/or liquids may be present. Already deployed in a broad range of applications for data-acquisition and remote asset management, the successful Modular Controller series can now serve a larger audience within the petro-chemical industries.
"This new approval further expands the available markets for Red Lion's Modular Controller," said Jesse Benefiel, Red Lion Product Manager. "Companies working in hazardous environments can now safely integrate multi-zone PID control, data acquisition and I/O into their industrial control systems, while also adding advanced remote asset management and control features to their process."
Programmed with Red Lion's easy to use Crimson® software, all connected devices can share data with the controller and with each other, with a simple drag and drop mapping of their registers. The Modular Controller's high-density DIN rail design saves panel space and eliminates cutouts. Replaced modules are automatically programmed from the master, reducing downtime.
All models of the Modular Controller Master, as well as every input module have been approved. Control and output modules fitted with solid-state outputs complete the comprehensive offering. Available modules include:
-CSOUT: 4-Channel Analog Output Module
-CSDIO: Digital I/O Module with Logic Engine (solid state output models)
-CSINI8 / CSINV8: Analog Input Modules
-CSPID2: PID Control Modules (solid state and triac output models)
-CSTC8 / CSRTD6: Temperature Input Modules
Red Lion Controls, Inc. is a leading manufacturer of industrial control solutions worldwide. Products include protocol converters, operator interface panels, process controllers, digital/analog panel meters, sensors, and signal conditioners. For more information, or to find the Red Lion distributor nearest you, go to http://www.redlion.net or contact: Red Lion Controls, Inc., 20 Willow Springs Circle, York, PA 17406; (717) 767-6511.
###