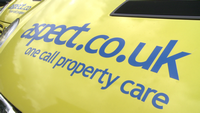 Preparing the home for the wetter and colder weather is critical.
London, United Kingdom (PRWEB) September 30, 2011
Long-term UK weather forecasts predict a cold few months ahead, with heavy snowfalls likely for November and December . With this in mind, it is vital for homeowners to ensure their properties are properly weatherproofed and ready to take on the elements.
Property maintenance and refurbishment specialist, aspect.co.uk, provides some useful tips on how to prepare your home for the colder months ahead, and some of the warning signs to look out for:

Properly insulate property, from lofts to cavity fillings to exclude draft, prevent heat lost and conserve energy. This should include draft- proofing all windows, doors and letterboxes.
Check pipes are insulated to protect from frost and to prevent heat loss.
Check the roof for missing tiles, and make sure the flashings to the chimney and around any skylight windows also look intact.
Unblock drains and clear guttering of any leaves, moss and vegetation.
A boiler should be serviced once every year. It is a good idea to also consider having a powerflush undertaken as this will revitalise the system and increase the longevity of operation. It will allow the system to reach temperature far more quickly, thereby reducing fuel costs and putting less strain on the boiler.
Make sure all windowsills and door frames are properly coated and protected, with no rotting wood. Get any painting completed as soon as possible, once the wet and cold weather set in, they won't dry as quickly.
William Davies, managing director at aspect.co.uk, comments: "Preparing the home for the wetter and colder weather is critical, and property owners should not underestimate the work that needs to be undertaken. However, by keeping on top of this year after year, the tasks are unlikely to mount into bigger jobs and larger repair bills.
"Around this time of year, we begin to experience a huge spike in homeowners requesting estimates for maintenance and refurbishment work. This is all very encouraging and highlights the fact that property owners are seeking to protect their homes for the winter ahead."
Notes to editors
About aspect.co.uk
aspect.co.uk is a leading property maintenance and refurbishment company operating across the domestic and commercial sectors, 24 hours per day. With the tagline – 'one call property care', aspect.co.uk manages all maintenance issues, from the drains to the roof and everything in between.
The company's motto is 'fix, support and refresh':
o Fix – emergency repairs
o Support – through the company's planned maintenance team
o Refresh – through the company's installation and refurbishment team
aspect.co.uk has a fully-skilled workforce – from versatile handymen to qualified technicians, including gas engineers, plumbers, decorators and drainage specialists. The company has an impressive list of accreditations and sets new, modern, professional and award-winning standards for property maintenance.
The company uses cutting edge technology to enable its workforce and ensure best customer practice, and high levels of performance.
Founded in 2005, aspect.co.uk has grown at over 100% year-on-year. The company is based in South West London, and operates primarily across the city and all areas inside the M25. In July 2011, the company launched its nationwide franchise business - http://www.aspect.co.uk/franchise/.
###