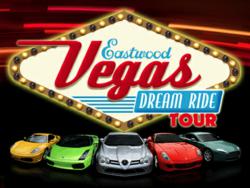 "I was as excited as a kid when I went to the SEMA show and then spent a day driving five dream cars," said Tom Shinn, winner of the Eastwood 2010 Dream Ride Tour Contest.
Pottstown, PA (PRWEB) September 30, 2011
The Eastwood Company is again sending the winner of the Eastwood Dream Ride Tour contest to Las Vegas for four days and three nights, including round-trip airfare and hotel accommodations.
"We are pleased to once again offer our customers and website visitors the opportunity to drive five exotic sports cars - all in the same day. Additionally the grand prize winner of the Eastwood Dream Ride Contest will get free entry to the SEMA automotive specialty performance products trade show at the Las Vegas Convention Center in early November, and first hand access to several of Eastwood's newest and hottest products on the market," announced Curt Strohacker, president and founder of The Eastwood Company.
Eastwood's Dream Ride Tour contest will randomly choose one grand prize winner who will be flown round-trip to Las Vegas to experience an unforgettable four day, three night stay filled with once in a lifetime opportunities. The winner will travel between the dates of November 2 and 5, 2011 and then participate in the Dream Car Tour in Las Vegas, NV.
First stop will be the Specialty Equipment Market Association (SEMA) Convention, the premier automotive specialty products trade event in the world. The show draws the industry's hottest products and attracts over 100,000 industry leaders from 100 countries featuring performance, accessories, restoration and motor sports products. As part of Eastwood's new product exhibition at SEMA 2011, Eastwood will present their Aerosol Injection System, Pneumatic Fender Finisher, Battery Sustainers and a uniquely designed Eastwood Evolution HVLP Paint Gun.
On November 5, 2011, The Eastwood Dream Ride Tour winner will experience their ultimate dream cars: 640hp Lamborghini Murcielago LP640, Lamborghini Superleggera LP570, Ferrari 430 Scuderia, Ferrari 458 Italia, and an Aston Martin V8 Vantage. .
The winner will take control of the wheel and enjoy driving these super-cars at Las Vegas Speedway. Then, as an added bonus, they'll circle the Las Vegas Speedway with a professional driver in a Porsche GT3 RS.
"I was as excited as a kid when I went to the SEMA show and then spent a day driving five dream cars," said Tom Shinn, winner of the 2010 Dream Ride Tour Contest. "I met the staff and with their help, learned the special driving specifications and handling techniques for each vehicle. It was an exhilarating day I will never forget," Shinn continued.
The Eastwood contest closes at 11:59 p.m. E.T. on October 14, 2011. There is a limit of one online entry per valid email address. The contest is open to legal residents of the 50 United States and District of Columbia who are between the ages of 25 and 70 years of age at the time of the event.
The rules of the contest can be seen in detail at the Eastwood website.
Eastwood markets unique tools and supplies for repair, restoration, and modification of cars, trucks, and motorcycles. Founded in 1978, Eastwood constantly strives to develop new products to serve the home automotive hobbyist, as well as individuals and organizations focused on the restoration and preservation of automobiles and motorcycles. Writers are always welcome to use any article in Eastwood's Free Tech Library, with attribution.
###