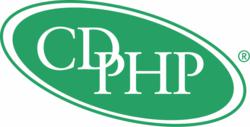 These new solutions add value to an organization's benefit offerings and allow CDPHP to be a partner with employers to engage employees in containing costs and promoting healthy behaviors," said Brian J. Morrissey, SVP, Marketing/CMO, CDPHP.
Albany, NY (PRWEB) September 29, 2011
CDPHP® announces innovative products and enhancements for 2012 that add value with new ways to save groups money, innovative methods to engage with and keep members healthy, and more ways to work with them to meet their unique health plan coverage needs. These include new value-based insurance designs, a new $365 deductible plan, Rx for Less program, lifestyle and low-cost prescription drugs riders, easier administration and use of health reimbursement arrangements, and enhanced ecommunications/member engagement tools.
"These new solutions add value to an organization's benefit offerings and allow CDPHP to be a partner with employers to engage employees in containing costs and promoting healthy behaviors," said Brian J. Morrissey, senior vice president, marketing, and chief marketing officer (CMO), CDPHP. "We know that these products will also help employers attract and retain a productive workforce, which is critical in this economy."
HEALTHY DIRECTION * – A WIN-WIN FOR EMPLOYERS AND EMPLOYEES
Due to an added emphasis at the national and regional level to engage employees in their own health, and our commitment to increasing the value of our products, CDPHP has implemented a value-based insurance design into its 2012 product portfolio with Healthy Direction.
Healthy Direction is an innovative plan that directly ties healthy behaviors, like completing a personal health assessment or getting their annual physical exam, to members' out-of-pocket costs. And because these healthy activities are also good for their health, it's truly a win-win for employees and employers:

For small groups, employees earn reduced deductibles, lower or no copays on certain services, and enhanced benefits after completing five healthy steps, including visiting their primary care physician and completing a biometric screening.
For large groups, employees can maintain their lower cost share and enhanced benefits when they complete the five healthy steps.
Employers will always pay one low rate – a significant savings for such a benefit-rich plan.
CDPHP believes that when people take an active role in their health, it results in both short-term and long-term advantages. Healthy Direction can propel business success by:

Improving employees' health
Driving future medical costs down
Lowering absenteeism and increasing productivity
Empowering employees to take control of their health
Boosting and maintaining morale
CDPHP SHARED HEALTH
CDPHP Shared Health has grown in its success since being introduced to market in January 2011, with more than 74 groups enrolled, representing more than 21,000 members. To date, most Shared Health groups have partnered with CDPHP to assess their workplace, implement a personal health assessment campaign, and offer their employees onsite health screenings and health promotion and wellness programs based on employee data.
CDPHP Shared Health is designed to facilitate a true collaboration among CDPHP, businesses, and their employees. The innovative product is a multi-year commitment that includes a sophisticated health promotion program aimed at lowering health care costs long-term. CDPHP Shared Health gives employers the security of a fully-insured plan with the financial flexibility and control of a self-administered plan. Available to groups with 50 or more enrollees in CDPHP EPO or PPO plans, it allows employers to manage their upfront health care dollars by funding a portion of the claims paid. Each employer can make its own decision on funding levels.
Targeted health promotion and wellness programs are an integral part of the CDPHP Shared Health partnership. In addition to Life Points®, an incentive program that rewards members for healthy activities, CDPHP Shared Health includes a progressive health and wellness program with a dedicated clinical account manager designed to meet specific group needs through worksite wellness workshops, comprehensive health screenings, multi-week seminars, and more.
$365 DEDUCTIBLE PLAN* — A SIMPLE TRANSITION TO INCREASED EMPLOYEE COST-SHARE
For employers looking to introduce a deductible, but unsure if their employees are ready for it, they can now choose from a range of EPO copayment plans with a minimal $365 deductible. All plans include the Life Points® rewards program, which enables employees to easily offset the deductible by earning up to $365 worth of rewards for their healthy behaviors. Activities such as going to the gym and the dentist are self-reported online, while others, such as attending an annual physical exam, are automatically accumulated through claims feeds. And because tracking and redeeming awards online is easy, these plans can provide employees with a simple, nearly effortless transition to a deductible.
Rx FOR LESS*
As part of our ongoing commitment to keeping health care costs low, CDPHP is launching a new program for members with a prescription rider that offers deep discounts on a specific list of drugs when purchased at CVS, Walmart, or Price Chopper. (This is in addition to our regular prescription drug rider that includes coverage at virtually all CVS/Caremark chain stores and most independent pharmacies.) Over 200 generic prescription drugs are available for as little as $1. That beats the prices of many other drug club programs by 90%! And we're including some drugs that are not found in other programs. There's never a sign-up process or registration fee, so the program is free and easy to use. Employees simply present their CDPHP ID card when purchasing their prescription. It's all included in our pharmacy benefit services, and represents another way CDPHP saves its members money.
MORE LOW-COST PRESCRIPTION RIDERS*
Again this year, CDPHP has received approvals of its requests for waivers so it can continue to offer capped prescription riders. In addition, new prescription riders from CDPHP offer low-cost options, such as:

Upfront deductibles ranging from $250 - $1,000 followed by a straight, three-tier copay.
Both Tier 1 and mail-order drugs are carved out of the deductible.
Available to both large and small groups.
They are available with EPO, PPO, and HMO, but not for any high deductible products.
LIFESTYLE RIDERS OFFER GYM ALLOWANCE AND MORE*
Employers looking to motivate their employees to take charge of their health can choose from our new lifestyle riders, which can be added to any plan:

Gym membership reimbursement – Employees can be reimbursed up to $240 annually for joining a gym. With an enhanced participation rider, there is an option to reimburse employees up to $400 annually when they provide documentation of attending the gym.
Weight Watchers® – All employees can receive a total of $65 annual reimbursement toward the Weight Watchers 10-week program. A participa¬tion-based rider increases the reimbursement to $130 for documenting monthly attendance at a Weight Watchers meeting (or online contact).
Nutritional counseling – Employees have access to a registered dietitian, as well as nutritional counseling phone support, for a $10 copayment per visit.
ECOMMUNICATIONS AND MEMBER ENGAGEMENT TOOLS
CDPHP continues to make great strides to increase engagement with its members through the various electronic media that are emerging in the health care market. This includes entry into social media, Find-A-Doc Mobile app, Health e-Updates newsletter, and electronic versions of CDPHP print newsletters for members, providers, brokers, and employers. In addition, upcoming enhancements to the Find-A-Doc mobile app scheduled for later this year will include mobile ID card and benefits information to allow its 350,000+ members who are on the go or traveling to have fast and convenient access to frequently searched plan information and wellness resources.
HEALTH REIMBURSEMENT ARRANGEMENTS MADE EASIER WITH CLAIMS INTEGRATION
Our new, unique claims integration system makes it easier to administer and use a health reimbursement arrangement (HRA) from CDPHP. For members, it saves time and eliminates hassle by substantiating claims and paying the provider directly, on behalf of the member. And best of all – it all happens at CDPHP. That means no extra claims feeds or different service vendors to manage, keeping information secure and providing more efficient coordination of medical benefits and HRA claims. Plus, members can keep track of their HRA account activity online, in the same place they can view medical claims and benefits, at http://www.cdphp.com.
*Pending NYS Department of Insurance approval.
About CDPHP®
Established in 1984 as a physician-founded and guided health plan, CDPHP and its affiliates currently serve members in 24 counties throughout New York with a full family of products. Visit CDPHP at http://www.cdphp.com or on Facebook, Twitter, or LinkedIn.
# # #